"Heartbreak City!"
Those two words from broadcaster Gus Johnson, combined with the tears that streamed down Adam Morrison's face as Johnson said them, defined one of the most authentic March moments the men's NCAA tournament has ever provided. UCLA's 17-point comeback, capped in the final seconds by a steal from Jordan Farmar and layup by Luc Richard Mbah a Moute, sent home what was then a perennial Cinderella in Gonzaga with perhaps its best chance yet at a title run.
Seventeen years to the day later, the two programs will meet again in the Sweet 16. The venue this time is Las Vegas rather than Oakland, the coach for UCLA Mick Cronin, not Ben Howland. Morrison's only impact on the game will be as a radio broadcaster for Gonzaga. Well, that plus an AT&T commercial he stars in that pokes fun at that tearful moment. (Mike Roth, Gonzaga's AD, quipped to Morrison, "I'm glad you're finally getting paid for that shit," after seeing the commercial.)
But UCLA and Gonzaga, now two powerhouses of West Coast college basketball, are forever linked by two iconic tournament games: The "Morrison Crying" game in 2006, and Jalen Suggs's buzzer-beating winner in the Final Four in 2021. And with plenty of familiar faces on display from the last Big Dance meeting, these two budding rivals may have another classic in store.
---
In 2006, the Gonzaga program was still very much on the ascent. It had built on the name recognition from its three consecutive trips to the second weekend from 1998–2000 and now was earning high seeds, landing as a No. 2 seed in 2004 and on the No. 3 line in 2005. That had coincided with the arrival of Morrison, an unheralded recruit who blossomed into perhaps Gonzaga's biggest star ever. By 2006, Morrison was a national sensation, averaging over 28 points per game and becoming something of a celebrity in the process.
"Fewy [Gonzaga coach Mark Few] always described it as traveling with The Beatles, and that's a cliche term, but it was also kind of true," Morrison said in a 2017 interview with SI's Luke Winn. "We had people lining up in our hotels, guys jumping on our buses, guys hounding us for autographs."
But despite the fame, Gonzaga still wasn't perceived as being a true national power, partially because most of their team was built on underrated recruits and international products. Gonzaga still had the element of surprise against national powers like UCLA that weren't prepared for the Bulldogs to be just as talented as they were.
"We didn't feel like our backs were against the wall talent-wise," UCLA big man Ryan Hollins says. "They kind of shocked in the sense that we weren't bigger, we weren't more athletic… we [couldn't] just pound-for-pound out-athletic these guys."
The result? A 17-point lead in the final minute of the first half for the Bulldogs, who seemed well on their way to a third-ever Elite Eight and potentially a first-ever Final Four appearance. But in the game's final 20 minutes, everything came undone. UCLA trimmed the lead from 17 to 13 at halftime and then to single digits early in the second half, but Gonzaga mostly kept the Bruins at bay until there were less than five minutes to go. Trailing 69–59, UCLA scored 14 of the game's final 16 points and 11 straight, capped by that Mbah a Moute layup.
Morrison still hasn't rewatched the game and says his memories from it are a blur. "One of those things where something weird happens and your brain deletes it," he says. Leon Rice, an assistant for the Bulldogs then and now the head coach at Boise State, told the Los Angeles Times in 2021 that "everything had to go perfect for them down the stretch, and everything had to go wrong for us."
The tears for Morrison started with 2.6 seconds left on the clock, after a Gonzaga turnover that essentially sealed the win for UCLA. When the final buzzer sounded, Morrison sat down near midcourt in shock, eventually covering his eyes with his jersey as he continued to cry. Eventually, Hollins and UCLA teammate Arron Afflalo went to console him and help him up, but the moment had already been captured on camera and will live on forever.
"This guy [had] just kicked our butts," Hollins says. "We knew we were moments away from going home, so you could look at him, get in his face, but nah [I said], 'You're a bad dude and you're gonna have a long career in the NBA.' I had such a respect for him and for the game that I didn't want him to hang his head."
---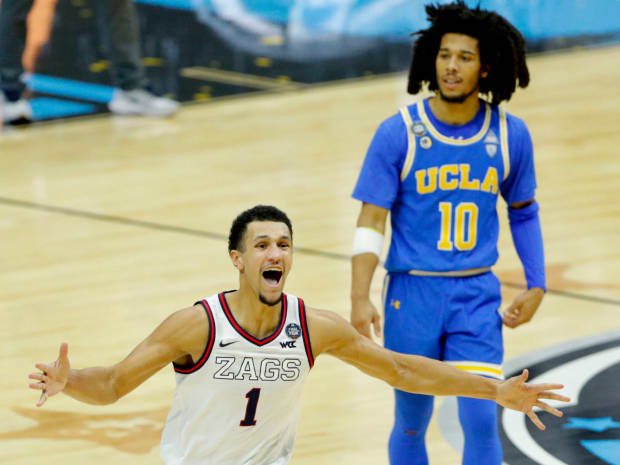 The 2021 game presented a unique role reversal. Gonzaga was the undefeated overall No. 1 seed, unquestionably now more the hunted than hunter. The Bulldogs had spent the year rolling through virtually every opponent put in front of them, beating its four prior NCAA tournament opponents by at least 16 points each and having not played a game decided by single digits since the first week of December. Comparisons to the 1976 Indiana team coached by Bob Knight that went undefeated en route to a championship were thrown around.
"It's wild to think that we're such a national brand, considering how small we were [with] facilities and stuff like that," Morrison says now. "We've caught up, but [in 2006], it was like, literally just a crackerbox gym with lightning in a bottle."
Meanwhile, UCLA, rarely the underdog, was on as much of a Cinderella run as a program with the Bruins' brand could go on. There was some doubt after four straight losses to conclude the season that Cronin's crew would even be in the tournament. Then, UCLA needed to survive overtime in the First Four against Michigan State to even reach the main draw. Fifteen years before, Gonzaga playing UCLA was a barometer of where Gonzaga was as a program. In many ways, the 2021 game was a barometer of where the Bruins were, whether Cronin was close to getting UCLA near the top of the college basketball landscape.
The image of the game, the one that's indelible in the minds of not just Gonzaga and UCLA fans but college basketball fans in general, will always be Suggs standing atop a courtside media table, shouting into stands mixed with masked fans and cardboard cutouts, after sinking one of the greatest shots in NCAA tournament history. Had Gonzaga went on to win the championship two days later, it might be universally accepted as the tournament's top all-time moment. But this wasn't a great finish that made a game great; this was a great game that also happened to have a miraculous finish.
SI's Greg Bishop wrote that night that, throughout 2020–21, "Gonzaga presented an antidote to a men's college basketball landscape laden with low-scoring affairs that lacked the poetic grace the Bulldogs displayed in 2020–21. Watching the Zags felt like viewing an entirely different sport, with their offensive efficiency and spacing and ball movement." UCLA matched that level that Saturday night, trading blow for blow with the nation's best offense all night. Each team shot 57% or better from the field, tallied 20 or more assists each and averaged more than 1.2 points per possession. A post basket from Timme, then a tough pull-up two by Juzang. A cut for a dunk by Corey Kispert, then a pivot and crafty finish by Campbell. The teams were separated by more than two possessions for less than 90 seconds of the 45-minute game.
Then, the shot.
Trailing by two in the final 15 seconds, Juzang drove and took a tough floater. The shot was short, and Juzang knew it first, so he darted to snag the board and then laid it up and in with 3.3 seconds on the clock. There was no timeout called, no stoppage to check the clock. Kispert caught the ball out of the net and threw to it to Suggs, who took three dribbles to get just across halfcourt and heaved off-balance for the win. It kissed off the backboard and dropped right through.
"One of the great games in Final Four history," Jim Nantz said on the CBS broadcast that night.
While the rest of Gonzaga converged on Suggs atop the table, Few stopped Cronin for a longer-than-usual postgame brace. Few's expression was almost apologetic, like he was sorry UCLA's dream run had to end that way. Cronin was asked postgame if it was the best game he had ever been apart of.
"That's [a] tough one, buddy. I'd say no, because we didn't win."
Morrison was there that night, providing color commentary for Gonzaga's home radio broadcast as he has since 2017. His jubilant yells of "YES!" as the shot dropped through went viral, postgame, with Morrison quipping to The Athletic "I'm just glad I didn't cuss."
"It was just more wanting the team to win," Morrison says now. "I think it was more so better for our fans, if that makes sense, because it helps them have something to hang over their head … [crying] will never leave how I'm viewed, but there are worse things to be viewed as, right?"
---
The tears he shed on the floor will always be a main chapter of the Morrison story. But the larger tale is of the guy in the baggy jersey with the strange hair and mustache that turned into the face of college basketball; a guy who helped elevate the Gonzaga program on its path to national dominance. Gonzaga let Morrison be Morrison, empowered an unheralded recruit to be a star and helped him become one of the great college basketball players of the 2000s.
"One of the biggest things I'm thankful for is that Gonzaga always let me be myself. And they still do, to this day," Morrison said in that 2017 interview with SI. "I'm still welcomed there. I'm not a normal guy—I think you've gathered that—but I never felt pressure from them to conform to anything."
There are plenty of parallels there to the current star of the Zags, Timme. The easy line to draw is the facial hair—Timme claims his mustache is better than Morrison's—but both have experienced being the face of the Gonzaga program and everything that comes with that. Timme is more high-energy and outgoing than Morrison was while playing at Gonzaga—he even has his own podcast—but the common thread is there: Come to Spokane, be yourself, and hoop.
"It has allowed me to become the best version of myself. Me wheeling and dealing, having fun. I think me with personality and this energy is what makes me such a good player. It's infectious. And I think without that I don't think I'd be the player I am, I don't think we'd be the team that we are."
Morrison famously used to wear a shirt while playing at Gonzaga inscribed with "If it wasn't for offense, I'd play defense." Today, he calls it "the perfect shirt for Timme," whose defense has been much-maligned despite his historic offensive numbers.
"Hell yeah," Timme says through a laugh when asked if he'd wear the same shirt.
This is Timme's last chance to cement his legacy as the player who finally brought a championship to Gonzaga. He has one more year of eligibility because of the COVID-19 pandemic, but in February said he plans to move on after the season to his professional career. He's already the program's all-time leading scorer, ranks in the top five in rebounds and helped lead the Bulldogs to a national championship game appearance in 2021 along with the tournament's No. 1 overall seed in both '21 and '22. A win Thursday would get him halfway to a title, and in the process make him 3–0 all-time against UCLA in a stretch where the Bruins have made three straight Sweet 16s. UCLA was once the program every team in the West measured itself against; now, it's trying to keep up with the small school in Spokane.
The Bruins program had been tasked with a near-impossible mandate since John Wooden: Don't just win championships, win championships and play an appealing style for Los Angeles. That latter is part of why Howland, who took the program to three consecutive Final Fours, was eventually run out of town. Steve Alford nailed the appealing style, but outside of one year with Lonzo Ball didn't win nearly enough. Cronin walked into Los Angeles a true outsider and a bit of a fish out of water in Hollywood as a Cincinnati native, but set a tone from his opening press conference with a phrase he'd later repeat several times during his tenure.
"Here's how I spell fun: W-I-N," Cronin recites.
Cronin defied convention and has played the style that worked for him at Cincinnati: methodical pace, an emphasis on toughness, and control on the glass. Campbell, Jaquez Jr. and David Singleton all committed to UCLA before Cronin got the job, but stayed with the Bruins after the coaching change and have had key roles in restoring the Bruins into top-tier national contenders. If not for UNC guard Caleb Love's explosive second half in last year's Sweet 16 to knock off the Bruins, UCLA may well have been in consecutive Final Fours. Jaquez Jr. just passed Bill Walton on the program's all-time scorers list, while Campbell is now top five in assists and Singleton top five in made threes.
"Just to be in a conversation with a guy that's so great like that, I mean, I'm just blessed," Jaquez Jr. said this weekend when asked about passing Walton. "I don't really know what to say. That's crazy."
Cronin's witty response: "Come back for a fifth year." How realistic that plea is? Unknown, but the Bruins star is on NBA draft boards should he elect to end his college career this year.
With Timme already planning on moving on from Gonzaga and the potential for Jaquez Jr. and Campbell to head to the pros with their four years in the books, Thursday's game could mark the end for one transformational core and the extension of a championship dream for another. Both so desperately want to break through: UCLA for just its second title since 1975, Gonzaga to finally smash through the glass ceiling and hang a championship banner. Is 2023 the year that one of these two teams does?