This Tom Brady retirement feels different, right? At least that's what we're telling ourselves right now. The hope, for Brady, is that this oceanside announcement brought along with it the kind of weight-lifting peace we all hope to feel one day after it becomes clear we've done all we can do. That it's time to walk away.
Brady was right in his brief address, that you only get one of these before the world gets a little cynical and suspicious, before you start to become Brett Favre–like or Michael Jordan–y, and, instead of loosening the ties with the sport as you've intended, you end up in a bit of quicksand. Most of us emptied our hearts and minds exactly one year ago, while a secret plot for Brady to join the Dolphins was afoot. And while we don't blame him—you try quitting the thing that has brought you the most joy, meaning and purpose in a lifetime—it's unlikely he'll get the kind of royal procession he deserves. At least not now.
Maybe that's for the best, as Brady navigates what's next. Finally, some peace and quiet. Finally, a minute to evaluate true feelings away from the call of football. For the lot of us, we're less interested in what happens far down the road—that's his business. We're more interested in what happens in mid-June when the Raiders or the Titans or the Dolphins or the Patriots or the Commanders or the Broncos desperately need a quarterback after whiffing in free agency or stumbling in the draft or getting bit by the injury bug. What will happen when out of that scenario arises the perfect opportunity for Brady to mount his steed for one last ride? We all know he could do it. We all know that, at this very moment, he's still probably the best option in free agency.
That's the moment when he'll truly retire. Not now. Not on a beach. It's when you say no to the part of the job that tugs at your soul.
It's possible Brady has already done this. Without entertaining too much speculation, there was a moment on his podcast a week ago in which he was frustrated about a line of questioning into his retirement and said he had no idea what he was going to do. Maybe at that moment, all the contracts were laid out on the metaphorical table. The texts from Josh McDaniels and Stephen Ross and Mike Vrabel and anyone else with ties to Brady. (Covertly, through a back channel, of course.) Maybe that was the time to really pull off the Band-Aid. Or, perhaps coaches and GMs and owners have all collectively found their consciousness and were caring enough not to send any texts at all, convinced, as Brady seemed to be Wednesday morning, that he's finally finished.
Who knows?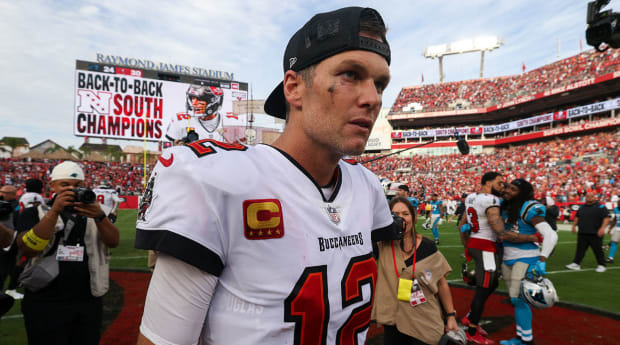 The one thing we can be certain of is that the NFL is a bit like Hotel California. You can check out whenever you want, but you can never leave. Remember a few years ago when the Cardinals were surging into the playoffs and lost Carson Palmer? Kurt Warner, who was then 43 years old, five years removed from his final season in the NFL, hoped the team would call him. He talked to his family about it. I remember asking another recently retired NFL quarterback who still had some gas in the tank a few years ago if there were any second thoughts, and the look I got in return made me feel cruel. Of course there are second thoughts. The NFL is the greatest drug ever created. Brady himself once likened the high to visiting the moon.
For those of us who appreciated Brady's career and also value the sanctity and reward of a private life, today is a good first step, but it is not entirely black and white. Google "Drew Brees unretire" or "Philip Rivers unretire." Google "Calvin Johnson unretire," or reread the ESPN story about Andrew Luck, where his former coach sent him Sting and the Police lyrics begging him to come back to the sport that caused him so much angst.
When you're as good as Brady—you could take a pizza cutter to his career blindfolded and divide the thing up in three parts, with each representing a Hall of Fame career on its own—there is always going to be another chance to come back. There is always going to be another chance to rescind the feeling in your gut the moment you know it's time to quit. There is always going to be some team desperate enough to try to break the bond Brady seems to have made with himself.
And so, in that way, this may not be the only retirement but the first of many. One hopes that each one, in succession, feels as real as the one today.