Northwestern, picked second to last in the men's Big Ten preseason poll, sits alone in second place in the conference as January winds down.
At 6–3 in league play and 15–15 overall, the Wildcats have been one of the biggest surprise teams not just in the Big Ten, but in all of college basketball. They've won at Michigan State and Indiana, beat in-state rival Illinois and have built a résumé with four Quadrant 1 wins, tied for third most in the Big Ten. And the 'Cats have done all this despite losing their top two big men from last year's team to the transfer portal, with Pete Nance spending his last year of eligibility at North Carolina and Ryan Young wrapping up his career at Duke. After five consecutive seasons finishing under .500, they're in position for just the second NCAA tournament berth in program history, pegged as a No. 10 seed in Sports Illustrated's latest bracket projection.
The catalyst for that turnaround? Redshirt senior guard Chase Audige, who has blossomed into one of the nation's best defenders and put together a bounce-back season offensively. He leads the Big Ten in steals per game, landed on the Naismith Defensive Player of the Year watch list last week and is one of just two players in the country averaging at least 15 points, three rebounds, three assists and 2.5 steals per game.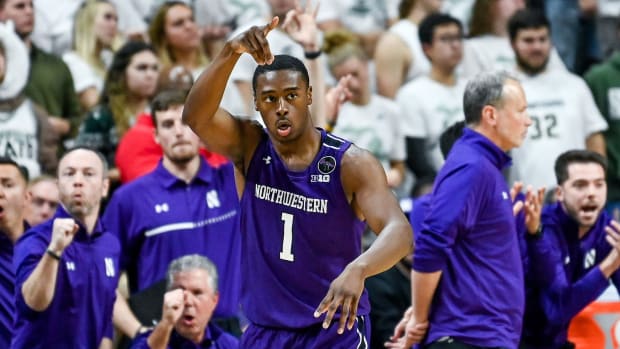 "I just think he's one of the best defenders around," Northwestern coach Chris Collins said in early January after Audige grabbed four steals and limited Illinois star wing Terrence Shannon Jr. to just nine points in a win over the Illini.
Audige went through a brutal 2021–22 season that saw Northwestern underachieve, finishing 15–16 overall and 7–13 in the Big Ten. After missing all of summer and fall practice along with the first seven games of the season due to a sports hernia injury, Audige finally returned in early December of that season with little practice time under his belt. He often barely participated in practice to stay fresh for games and dealt with back spasms and ankle issues as well throughout the season.
"I never really felt right," Audige says, pegging himself at somewhere between 60% and 70% healthy depending on the day last season.
The injuries and lack of practice time impacted his numbers. Audige shot just 34% from the field and 25% from three, and saw his scoring average drop from the previous season. His final game of that campaign, Audige went 0-for-6 from the floor and was held scoreless, and the Wildcats gave up 112 points in a 36-point drubbing by Iowa.
The story could not be any more different this season for Audige and the Wildcats. Last offseason Collins brought in assistant coach Chris Lowery, a former head coach at Southern Illinois and longtime assistant under Bruce Weber, and his fingerprints are all over the team's defensive turnaround. Northwestern has kept 16 of 20 opponents this season under 70 points and ranks among the nation's best in defending the rim and forcing turnovers. The 'Cats peaked at No. 6 nationally in KenPom's defensive efficiency metric in early January and currently rank No. 22, which would be the team's second-best finish defensively under Collins.
"We've gotten a little bit more aggressive," Collins said. "Coach Lowery has done a great job coming in, bringing some of his ideas. He has been an elite defensive coach for a long time."
The team first noticed things were different during summer practice, when neither side could score for extended stretches during some scrimmages and games got extremely physical.
"Us playing against each other was a freaking nightmare. There were practices where you'd look and nobody scored in the last 10 minutes," Audige says with a laugh. "Sometimes you'd leave practice and you'd have seven to eight guys in the training room needing treatment."
The head of that defensive snake is Audige. He's big and physical enough to guard multiple positions, which is critical in Northwestern's switch-heavy scheme. He's excellent on the ball against stars like Shannon, but also a terrific gap defender, racking up steals and blocks by getting in passing lanes and rotating quickly in scramble situations. And he's staying on the floor after often dealing with foul trouble his first two seasons in Evanston, tallying more than 34 minutes per game in conference play.
"I don't want anybody scoring on me," Audige says. "I do take pride in being one of those defenders who people don't want to see, they want to pass the ball when they're playing against me."
And now that he's back at 100%, Audige has also put together the best offensive season of his college career. He's shooting 36% from three on more than six attempts per game, is going to the free throw line more and knocking those down at a career-best 87%, and scoring over 16 points per game in Big Ten play. Together with his defensive prowess, Audige has become one of the top two-way players in the conference, ranking ninth in the Big Ten in box plus/minus.
Audige, point guard Boo Buie and power forward Robbie Beran make up the rare trio in modern men's college basketball to spend four years together. After transferring in from William & Mary, Audige redshirted while Buie and Beran were freshmen in the 2019–20 season. They've been consistent starters since, averaging more than 40 points per game combined this season. They hope that experience will help the Wildcats navigate the grind of conference play, as Northwestern looks to punch its ticket to the NCAA tournament after spoiling hot starts earlier in their career.
"Us three have really been through everything, literally," Audige says. "We've been ranked before, 19th (in 2020–21), and then we've lost 13 straight games [later that season]. ... We're playing well right now, but we're not looking at it or trying to get too big-headed. It's game by game, and things can turn around in a heartbeat."
The schedule ahead is daunting: three more games this week against Iowa, Michigan and Wisconsin to wrap up six contests in 14 days, then a stretch of eight straight games against KenPom top-40 opponents to wrap up the regular season. But this 6–3 start has optimism as high as it has been since 2017 in Evanston, and even just getting to 10–10 in Big Ten play may well be enough to see the Wildcats dance on Selection Sunday.