No team in football needed a blowout win in Week 11 like the Buffalo Bills. On Sunday, they got their wish.
In front of the home fans, the Bills won big over the rival New York Jets, 32-6. The Week 11 win not only stopped the bleeding from Monday night but essentially finished the Jets' chances at a spot in the AFC playoffs.
It was a strong debut from offensive coordinator Joe Brady, and the results reverberated throughout Buffalo's roster. Also, safety Taylor Rapp is resting at home after the scary injury he suffered in the first half. That in itself is cause for a sigh of relief.
What went Buffalo's way on Sunday?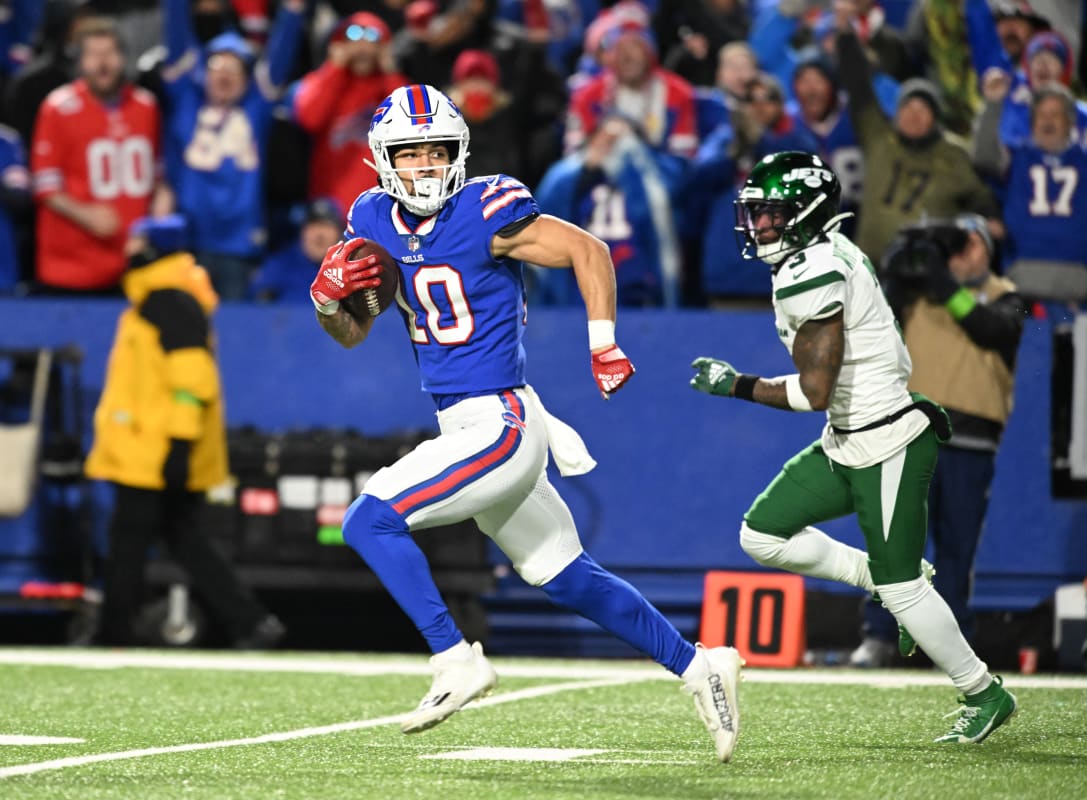 1. The Bills took care of business and didn't cause any chest pain in the process.
Simply put, this Buffalo team is expected to beat up on bad teams. The Jets, with quarterback Zach Wilson under center, fall into that category. The Bills fell short (or far too close to it) numerous times since blowing out the Miami Dolphins in Week 4. The week prior, they blew out the Washington Commanders 37-3.
Complementary football has returned to Western New York.
Sure, it's not guaranteed to stick around. But Buffalo covered and never broke a sweat on Sunday. The defense, despite its injuries, made Wilson look like himself. He completed seven-of-15 passes for a putrid 81 yards. He threw a single touchdown and interception but took five sacks in the process.
New York didn't find any relief on the ground, either. Running back Breece Hall ran 10 times for 23 yards, with his longest rush going for 14 yards.
Unsurprisingly, Buffalo was aided by solid field position and a demoralized opponent, looking the part on offense. Quarterback Josh Allen looked like himself (despite an interception) and the ground game did enough against the Jets' strong front.
Offense, defense, and special teams all showed up, giving head coach Sean McDermott reason to believe in the spark he attempted to light this past week.
2. Buffalo survived a poor showing from Stefon Diggs.
Receiver Stefon Diggs had another quiet night on Sunday, this time posting four catches for 27 yards. He once again led the team in targets but had a quiet night at the hands of the Jets' elite secondary.
Instead of crumbling, Buffalo's secondary options stepped up. Receiver Khalil Shakir had a three-catch, 115-yard day, hauling in an 81-yard catch. Kincaid had another good day, too, catching six-of-seven passes for 46 yards.
Receiver Gabe Davis was held out of the box score, but even when the Bills looked towards their depth – running back Ty Johnson and tight end Quintin Morris – the offense remained on schedule.
This, combined with 130 rushing yards, kept momentum in Buffalo's hands and made that complementary football possible. It was a strong day for the depth pieces on this roster.
Related: Analyst Defends Josh Allen: 'No Interception Problem!'
3. Winning games starts in the trenches.
Allen was sacked once, and Wilson was sacked five times. Even backup quarterback Tim Boyle was grounded once, too.
Buffalo took advantage of New York's beleaguered offensive line, making life that much more difficult. Defensive end Shaq Lawson logged a sack in a revenge game. Edge rusher Leonard Floyd found 2.5 for himself.
The Bills pass rush was successful all day long, whether it be from the interior, edge pressure, or a blitzing linebacker. The Jets lost tackle Mekhi Becton and were already without three starters. After failing to live up to expectations in recent weeks, the pass rush returned to Western New York.
Similarly, Buffalo was successful in the trenches on offense. Allen was well-protected and only logged five combined rush attempts and scrambles. Keeping Allen upright keeps him out of some of the turnover-prone situations he's found himself in over the first half of the season.
Both the offensive and defensive lines played well on Sunday. They'll need to continue doing so as the schedule gets tougher down the stretch.