We're going to be giving out a lot of MLB bets this season, and those bets will rely upon a lot of data, trends, sabermetrics and patterns that develop as the season progresses.
Today, however, we're going to go a little bit more with our gut.
It's Opening Day, and it's time to rely on a little instinct (and maybe just a little data, too).
In continuing our successful tradition from last season, today we are only going to take bets that pay plus-money. We finished our regular-season bets last year with a 30-23 record – and 27 of those bets paid plus-money.
No risk it, no biscuit.
Now let's have some fun!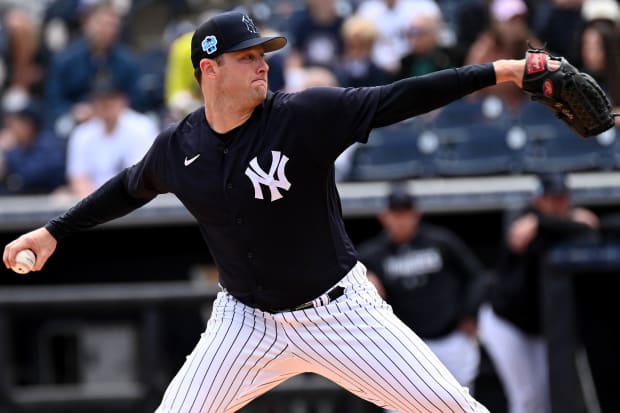 Yankees -1.5 (+140) over Giants
Yes, I know Logan Webb was excellent for the Giants last season, but I just can't see this San Francisco team being a match for the Yankees at home in the Bronx on Opening Day. This plus money feels like a value to me.
Gerrit Cole is prone to give up the long ball, but let's face it: This Giants team isn't prone to hitting them. What are they prone to? Striking out. Giants hitters had the ninth-worst K% in the league last season, and they were eighth-worst in batting average, and this year's lineup looks no better. Meanwhile, Cole struck out batters at a rate of 11.53 per nine innings last year. The Yankees bullpen that was the second-best in the league last season should be able to control the late innings as well.
Webb outperformed his underlying metrics by a lot last season, and he's due for regression. He hasn't looked as sharp this spring, allowing nine earned runs across 18 innings pitched. Webb was only in the 41st percentile of hard hits allowed last season and his strikeout rate was only in the 35th percentile. That doesn't match up well on paper with a Yankees lineup that scored the second-most runs in baseball and boasts reigning AL MVP Aaron Judge. The Yankees lineup also looks even better this season with a healthy DJ LeMahieu batting leadoff, newcomer Anthony Volpe at shortstop and Josh Donaldson having a productive spring. The Giants bullpen was bottom-11 last season, and though they should be improved, the Yankees should still be able to win this one by a pair of runs.
---
Guardians ML +100 over Mariners
Are we really so sure that Luis Castillo is a lot better than Shane Bieber? Maybe it's the home-field advantage, but I'm not quick to fade the Guardians vs. the Mariners. Both teams played their way into the ALDS last season, and I like the plus money for Cleveland here.
One of my favorite things about the Guardians is how they don't strike out. They had the lowest K% in the MLB last season (18.2%). The Guardians keep the game interesting with a ton of contact. With the new rules and some serious speedsters on the squad, I can see Cleveland manufacturing plenty of offense on Thursday. Castillo has allowed 19 hits across 17 innings pitched this spring.
On Seattle's side, Julio Rodriguez can't win games on his own, and the Mariners are going to need to do better this year than a .230 team batting average (third-lowest in MLB for 2022). Unfortunately for Seattle, two of their biggest power hitters are ice cold vs. Bieber: in 12 at-bats, Teoscar Hernandez is hitting .167 vs. Bieber; across 16 at-bats Eugenio Suarez is hitting .188.
Meanwhile, Bieber has looked sharp this spring, allowing only four runs across 23 innings pitched (1.54 ERA).
I'll take the plus money for the Guardians.
---
Astros -1.5 (+120) over White Sox
You can call me a homer here, but the Astros have won their last 10 opening day games. TEN. So, I am going to go bold and take them on the run line.
I generally hate run line bets, but the White Sox covered only 42.3% of the time last season -- the second-lowest in MLB, while Houston covered 53.1%. Plus, I told you we were going to be bold today!
The White Sox will have AL Cy Young runner-up Dylan Cease going for them on Thursday. Quite simply, Cease was a beast last season, but he has been terrible this spring, with an ERA of 7.31. Cease's stuff is absolutely filthy, but he has yet to get his walks under control, issuing a whopping 12 free passes across 16 innings pitched in the preseason. Cease led the entire MLB with 3.82 BB per nine last season, and he'll need to have that under control facing a patient Houston team with the second-lowest K rate in the league in 2022.
The Astros will have Framber Valdez on the bump at home for their season opener. The lefty hurler went 17-6 with a 2.82 ERA in 31 starts last year. He also set a Major League record with a streak of 25 consecutive quality starts. The Astros bullpen -- which was the best in the majors, also returns intact for Houtson. Last year that bullpen pitched to a sparkling 2.80 ERA while converting 76.8% of its save opportunities.
Fresh off a World Series win and a final spring training game in which they walloped the Cardinals, 24-1, this Astros lineup will be looking to put on a show at Minute Maid Park. Yes, they will be without Jose Altuve and possibly even Yordan Alvarez as of this article, but they have plenty of depth – including former White Sox first baseman Jose Abreu, who will be packing a punch, likely hitting fifth, and this time for the Astros.
---
If you or someone you know has a gambling problem and wants help, call the National Council for Problem Gambling 1-800-522-4700.