Chip Trayanum was lying on the goal line with the football, unleashing an Ohio State celebration that would climax with Ryan Day bellowing on live television like a madman about Lou Holtz and toughness and criticism and disrespect. "It's Ohio against the world!" Day said, sounding a rallying cry for the richest athletic department in the United States.
Ultimately, it was Ohio against only 10 Notre Dame defenders on the play that swung the most consequential game of the season to date in favor of the No. 6 Buckeyes and against the No. 9 Fighting Irish, 17-14. Trayanum's touchdown run with one second left went directly over a hole in the Notre Dame defense created by a missing lineman, a massive gaffe with the game in the balance and Ohio State a yard from the end zone. Irish coach Marcus Freeman and defensive coordinator Al Golden will have to live with that one—especially if this outcome resonates throughout the College Football Playoff race.
This was a game steeped in short-yardage tension—a yard-here, yard-there game. It was the kind of game that Ohio State lost to end last season against Georgia in the CFP semifinals. This time, the final three feet went the Buckeyes' way to end a 65-yard drive that instantly earned doubted quarterback Kyle McCord hero status. And it ultimately sent Day into a paroxysm of trash talk aimed at an 86-year-old man who hasn't been a coach since 2004 or a TV analyst since 2015.
Holtz struck a chord with Day in an appearance on ESPN's "Pat McAfee Show." The man who led Notre Dame to the 1988 national championship made these comments about Day and the Buckeyes: "He has lost to Alabama, Georgia, Clemson, Michigan twice—and everybody who beats them does so because they're more physical than Ohio State. I think Notre Dame will take that same approach."
Day clearly has had it with criticism of his team's alleged lack of toughness. He acknowledged that his team backed down physically in the second half of the 2021 loss to Michigan in Ann Arbor, but otherwise refuted any questioning of his team's grit.
"A lot of people took a lot of shots at this team over the last 48 hours," he said in his postgame press conference, voice still on edge. "That hit home with me. … You think we're not physical and not tough? You're wrong.
"We're not going to stand for that. That's not even close to true. I don't know where that narrative comes from. That ends tonight. I don't know where [Holtz] gets off just saying those things. I've got some more things I'd like to say, but I'm not going to say it because I'm more respectful than he is.
"It's always been Ohio against the world, and it continues to be to this day. A lot of people make a lot of comments [about a lack of toughness], put the film on and watch what goes on."
The film of this game will show the Buckeyes being stopped at the Notre Dame 1-yard line in the first half. It will show them being stopped at the Notre Dame 11 in the second half after running the opposite of a physical, smash mouth play, sending Emeka Egbuka on a jet sweep toward the sideline on fourth-and-one. And it will show the Buckeyes (ital)barely(endital) getting that final yard against a 10-man defense that was missing a lineman—perhaps not the ringing endorsement of his team's physicality that Day thinks it is.
But the film will also show McCord and his teammates coolly executing a do-or-die drive that covered 65 yards and turned a 14-10 deficit into one of the most dramatic victories possible. McCord—a first-year starter tasked with following recent Ohio State quarterback stars C.J. Stroud, Justin Fields, Dwayne Haskins and J.T. Barrett—could only lead the Buckeyes to 10 points in the first 59 minutes and 58 seconds of the game, on pace for their lowest-scoring game in seven years. But when Ohio State absolutely had to have it, McCord delivered dramatically.
"Kyle's a dog," Trayanum said, expressing the team's support of him as its starting quarterback.
McCord made three high-pressure throws on the final drive to keep it going. On a third-and-10 from Ohio State's own 35-yard line, he hit Egbuka on a seam route for 23. On a fourth-and-seven from the Notre Dame 39, he found Julian Fleming on a crossing route for exactly seven to move the chains. And on a third-and-19 from the Irish 22, McCord saw Egbuka find a soft spot in a soft zone coverage to get the ball to the 1-yard-line.
"At that point you're playing backyard football," McCord said. "Giving your guy a chance to make a play."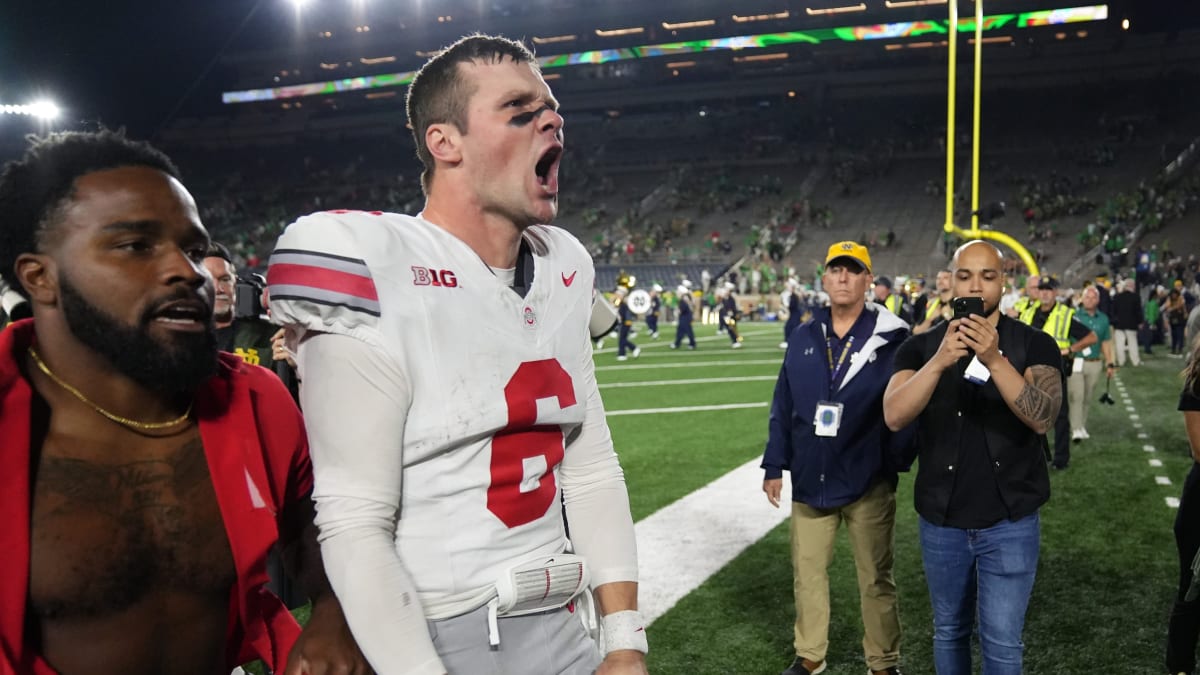 McCord rushed up to spike the ball on the next play to stop the clock with seven seconds left. The next down was a sprint-out throw for star receiver Marvin Harrison Jr., which McCord missed—part of a frustrating night for Harrison, who was double-covered much of the game and played through an ankle injury, catching just three passes for 32 yards.
On third-and-goal with just three seconds left, there was time for only one more play. Day called for the handoff to Trayanum. He was hit on both sides by Irish defenders but kept his knees off the ground just long enough to get the ball to the goal line.
"At the end of the day, you either get the yard or you don't," Trayanum said.
The Ohio State defense won a couple of one-yard battles of their own in this game, stopping a fourth-and-one Sam Hartman scramble in the red zone on Notre Dame's first possession. The Buckeyes also turned back a fourth-and-one sneak by Hartman in the third quarter.
However, that same defense also wilted late, allowing two Irish touchdown drives after being staked to a 10-0 lead. The second of those drives covered 96 yards and seemingly gave Notre Dame all the points it needed to win the game.
But the Irish couldn't close the door when they got the ball back with 4:12 remaining. On second-and-15 with 2:28 left, offensive coordinator Gerad Parker came up with a dubious screen pass call, which was nearly intercepted but fell incomplete, stopping the clock and allowing Ohio State to save a timeout it would desperately need at the end.
Still, that last offensive series would have been moot if Notre Dame had gotten the stop on its last defensive series. And that's where having 10 men on the field was such a glaring error.
"We were trying to get a fourth D-lineman on the field and I told him just stay off because we can't afford a penalty," Irish coach Marcus Freeman said. "I didn't have any time-outs, right? So we couldn't afford a penalty there. You know—yeah, it's on us. We got to be better."
Every blade of artificial turf matters in a goal-line situation, but a penalty there wouldn't have cost Notre Dame very much—18 inches, really. It probably would have been better to take the penalty there and get the 11th man on the field.
Instead, Ohio State got the final yard. It left Notre Dame Stadium stunned and deflated, with the program's biggest victory in years disappearing in a blink. On a packed, silent elevator descending to the stadium exit shortly after the game, one Fighting Irish fan mumbled a sentence that summed up the night for the losing side:
"The football gods, they suck."