Time erodes even the most adamantine of rivalries. Athens vs. Sparta. Leno vs. Letterman. USA vs. Cuba in baseball.
What was once the most hot-blooded, geopolitical-infused hardball rivalry on the planet devolved into a tepid mismatch Sunday night. In what otherwise has been a thrilling World Baseball Classic, the expected tension and heat of an international semifinal game withered into a varsity-vs.-JV scrimmage.
In the Little Havana section of Miami, Cuba played USA on U.S. soil for the first time since the 1996 Olympics in Atlanta, around the time Arnold Schwarzenegger was starring as a U.S. marshal in Eraser. It was a long time ago. Action heroes and the rivalry have not aged well.
By a 14–2 score that understates the talent gap, Team USA waxed a Cuban team loaded with cast-offs, 30-something Mexican League hangers-on and post-glory-days veterans who filled their all-red uniforms the way burly Boog Powell did those similarly monochromatic 1975 Cleveland unis, which were so bad the players back then offered to buy blue jerseys themselves.
"That's the biggest Bloody Mary I ever saw," Orioles shortstop Mark Belanger said upon catching sight of Boog in all red. Powell did him one better. "I feel like a massive blood clot," he said.
The only competitive drama Sunday night came from loanDepot Park security personnel trying to run down protesters trespassing on the massive outfield during the sixth, seventh and eighth innings. One unfurled a "Freedom for Cuba" banner. In each case, the ensuing slow-speed serpentine chases provided a diversion from the blowout.
The game was staged in a county, Miami-Dade, with the highest concentration of Cuban Americans in the U.S.—850,000 residents, or almost one out of every three persons in the county. When Cuba plays baseball, politics is not just a backdrop, but also a major narrative thread. Chants and political statements came at moments that had nothing to do with the action on the field.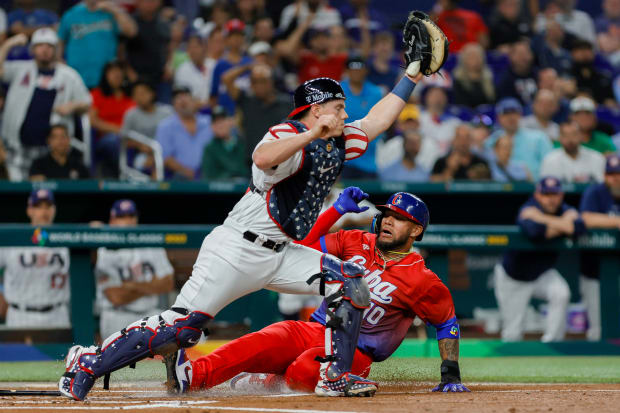 "This," said 40-year-old USA starter Adam Wainwright, "was the most crazy environment I ever played in."
The youngest of players on Team USA have no idea of the intensity that once defined the USA-vs.-Cuba rivalry. Back at the Atlanta Games, at the height of tension, U.S. manager Skip Bertman referred to the rivalry as "Americanism vs. socialism. ... It's probably the only such rivalry in the world." Congress had just passed the Helms-Burton Act, strengthening what has been the most enduring trade embargo in modern history. The Cubans were so good, Bertman said, that his young collegians (the oldest was 22 years old) had no chance to beat Cuba in a best-of-five series but maybe could be lucky enough to beat them in a single game. "They're the best team in the world," he said.
The U.S. lost, 10–8. When Cuba manager Jorge Fuentes was asked whether the contest was more than a game, carrying political ramifications, he said, "Absolutely. Absolutely yes. I will talk to our president about this game sometime soon."
He knew Fidel Castro, the old left-handed pitcher, would be thrilled, as would every Cuban who considered baseball a source of national and political pride. Or as Fuentes put it, "Victory has many fathers, but a loss is an orphan."
That victory, Cuba claimed, was its 140th consecutive win in international competition. (Other sources had the winning streak at either 123 or 131). Cuba won the gold medal that year, just as it had in 1992 and would again in 2004.
"It's our pastime," said USA first baseman Travis Lee, "but it's their life."
But as some of its best players sought to escape oppression and the lack of personal freedom, Cuban baseball eroded as surely as did the economy. At 3 a.m. one morning in 2010, for instance, a pitcher for Guantanamo named Roenis Elías jumped into a boat with five other players and under the cover of darkness pushed off from Havana, leaving a mother and father he would not see for years. Thirty hours later, the men reached shore in Cancún, Mexico. Elías signed the next year with the Mariners.
Cuba hasn't won an international competition in years. It is 1–7 against the U.S. in its past eight meetings, including this first matchup in the WBC.
Last December, the U.S. granted Cuba permission to include minor league and major league players on its WBC roster for the first time. The Cuban Baseball Federation made selective invites, turning a cold shoulder to players who defected during international competitions and those who had been critical of the regime. It did add White Sox teammates Yoán Moncada and Luis Robert Jr., the only major leaguers in its lineup. Elías, who defected out of competition, also received an invite and took the ball to start the semifinal game against the U.S.
Now 34 and without any above-average pitch, Elías was overmatched by the relentless U.S. lineup. Three batters in, he was down 2–1, thanks to a missile of a home run by Paul Goldschmidt, who had four RBIs on the night.
"Honestly," Goldschmidt said, "it's one of my favorite home runs I've ever hit in my entire life."
It never did get any better for Cuba. The U.S. scored 13 times before Cuba obtained a 17th out. Trea Turner smacked two homers, giving him three in a five-at-bat run. Poor Armando Johnson—the Cuban manager must have walked a mile changing and counseling pitchers.
The Cuban offense was no better. The starting lineup included two players released by the Dodgers—five and seven years ago—a right fielder who hit .225 in indy ball last year and Boog-like 36-year-old Alfredo Despaigne, playing in his 20th season. The Cubans made it to the semifinal largely by getting through an easy pool as a runner-up, squeaking by Australia by one run.
In fairness, the Cubans could not be blamed for being road weary. In the past two weeks or so, they have flown 85% of the circumference of the earth, from Havana to Paris to Tokyo to Okinawa to Taipei to Tokyo to Miami, the last leg covering 7,437 miles and 13 hours.
Cuba could do next to nothing even against Wainwright, who had trouble fielding his position and again lacked his usual modest velocity. Last season major league pitchers threw 30,711 four-seam fastballs in the first innings. Only one of them failed to register at least 86 mph (by Kyle Hendricks of the Cubs.) Wainwright threw three of them against Cuba. Gamely, Wainwright did survive a rally built on weak contact in the first inning to save the bullpen for manager Mark DeRosa.
DeRosa's key decision will be who to start in the championship game Tuesday against the winner of Mexico vs. Japan on Monday night.
"Obviously, it looks like Merrill Kelly's [throw] day," DeRosa said, but then added he would have to huddle with his staff before deciding on his starter. Lefthander Kyle Freeland could also be considered, or Brady Singer, though Singer was on call in the bullpen Sunday night, which would indicate he was not being saved. More importantly, DeRosa has a full bullpen locked and loaded, with his best options, Kendall Graveman, Jason Adam, David Bednar, Devin Williams and Ryan Pressly in line for the final five innings, or earlier if trouble presents.
Should Japan get through Mexico, the USA might get Shohei Ohtani on the mound in the championship game. If so, Ohtani would be turning a throw day into a start and might get only an inning or two. But even then, you might get to see Ohtani pitching the first inning against Mookie Betts, Angels teammate Mike Trout and Paul Goldschmidt, the three MVPs at the top of the rolling USA lineup. That alone would be worth the price of admission.
USA vs. Cuba in Little Havana turned out to be a noncompetitive affair. Whatever awaits Tuesday will assuredly provide better baseball and less political angst.