Tracking coaching carousels in college sports is turning into a nearly year-round job. In men's college basketball, six jobs are already open in the 2023 cycle just days into February, including high-profile vacancies at Texas and Notre Dame. While longtime Syracuse coach Jim Boeheim said over the weekend he "probably" will return to the Orange next season, there are several other big names and jobs worth tracking down the stretch of the season who will likely have big impacts on the carousel.
Here's a look at 10 of the most important coaches in this year's developing coaching change cycle, from those on the hot seat to those in line for a promotion and more.
Rodney Terry, acting head coach, Texas
There's no doubt Terry has done an admirable job keeping Texas rolling after Chris Beard's midseason dismissal due to domestic violence charges, and vaulting the Longhorns to the top of a loaded Big 12 has created a groundswell of momentum behind Terry getting the job full time. At most other jobs, this much success on an interim basis would make Terry a shoo-in, but this is Texas, which can attract candidates of the highest caliber thanks to its near-limitless resources.
On one hand, Terry has shown himself to be up to the task of managing the Longhorns program and has deep institutional knowledge from his time as an assistant. On the other hand, he was given a roster ready-made to win with one of oldest and most talented teams in the sport, and his tenures as a head coach at Fresno State and UTEP were by no means dominant. This one may come down to how deep Terry takes the Longhorns in the NCAA tournament. Texas taking the "acting" tag off Terry would take the biggest job likely to open this year off the board, but if the school doesn't, his success with this group could at least make him a strong candidate for a lower-level head job.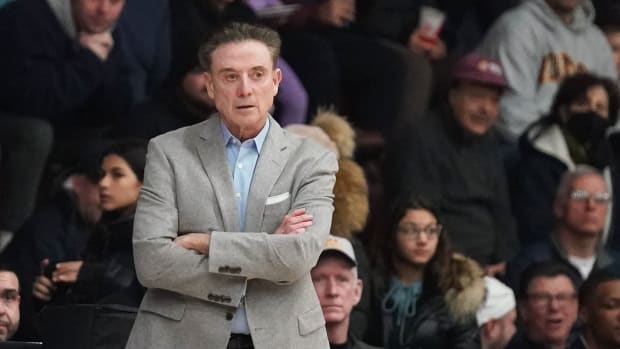 Rick Pitino, Iona
Speculation that Pitino could return to a high-major job has run rampant in industry circles since the legendary coach avoided NCAA punishments tied to the FBI investigation that rocked college basketball. Scandals aside, Pitino is one of the sport's most accomplished coaches, and his being available on the open market gives ADs a chance to hire as close to a "sure thing" as can be found.
That said, actually hiring Pitino is much harder than talking about hiring Pitino. He's 70 years old and comes with major baggage that might make a college president or board reluctant to make him the face of the institution. Hiring Pitino is inviting a spectacle. Still, could he refresh a moribund Big East program like Georgetown or St. John's as a final act in his storied and controversial career?
Pat Kelsey, College of Charleston
Kelsey is the pick of the litter in this year's mid-major crop of coaches, buoyed by a 21–1 start that vaulted the Cougars into the AP poll for several weeks before consecutive losses dropped them out. Kelsey checks a lot of the boxes for high-major jobs: He has won at multiple mid-major stops (winning four conference titles at Winthrop before his time at Charleston), has experience as an assistant at bigger programs from his time at Wake Forest and Xavier, and brings nonstop energy in marketing his programs. The experience at places like Wake and Xavier could play in his favor in the Notre Dame search, but Kelsey also could easily fit in at jobs down South thanks to his time spent in the Carolinas and his ability to recruit virtually every level.
Chris Holtmann, Ohio State
Holtmann isn't on the hot seat yet at Ohio State despite considerable grumbling from fans over a 3–9 start to Big Ten play this season and a lack of NCAA tournament success in his Buckeyes tenure. He just received a contract extension last offseason that is fully guaranteed through 2028 and he's made the Big Dance every other season in Columbus, but pressure could build here in a hurry at a program with high expectations. And with the Notre Dame job already open, a potential parachute to a program in the same state where he led Butler to three NCAA tournaments could make sense. Holtmann's buyout should he leave Ohio State is $2.5 million, an attainable number should the right job open. I'd still bet on Holtmann being in Columbus next year, but him finding a soft landing spot would be a major domino to fall.
Bobby Hurley, Arizona State
Hurley is in a unique spot: He could realistically be fired or extended, or leave for another job this coming offseason. Conventional wisdom was that Hurley cooled his seat with a 6–1 start in Pac-12 play, but since then Arizona State has lost five of six to fall to the wrong side of the NCAA tournament bubble. It's an all-too-familiar script for the Sun Devils under Hurley, who've often gotten out to hot starts before fading late.
ASU's résumé is still in decent shape, so sneaking into the Big Dance is well within the realm of possibility. But should he fall short, it'd be hard to justify an extension with his contract set to expire in 2024. And regardless of whether he saves his job in Tempe this spring, don't be surprised if Hurley tries to get involved with jobs back East.
Brad Brownell, Clemson
The belief since the preseason has been that Brownell needed an NCAA tournament berth to keep his job with the Tigers. And while Clemson currently sits at the top of the ACC standings, three disastrous losses to South Carolina, Loyola Chicago and Boston College have its bubble hopes very much in doubt should it not get the league's automatic bid. AD Graham Neff didn't hire Brownell and has a basketball background. This one, like Clemson's bubble hopes, could go either way.
Patrick Ewing, Georgetown
It seems like a foregone conclusion that March will bring a merciful end to Ewing's tenure atop the Georgetown program, which is 1–32 in its last 33 Big East games under the Hoyas great. The school's administration gave Ewing another chance with a new staff and roster after last year's historic ineptitude, but advanced metrics suggest the Hoyas are actually worse this year than they were in 2020–21.
The mechanics of the move will be the most interesting part. Is Ewing fired? He has no incentive to walk away on his own accord, and his buyout is reportedly near $15 million, per Hilltop Hoops. And parting with a man who means so much to Georgetown and is deeply attached to the program's history won't be easy. Still, change is necessary after this disastrous two-year stretch.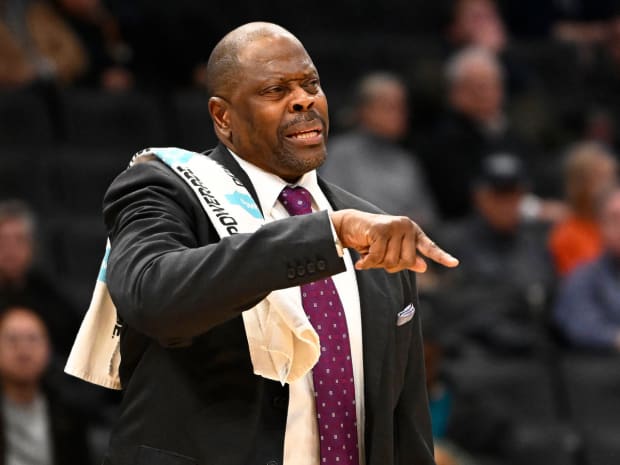 Fred Hoiberg, Nebraska
Nebraska is in the midst of its best season under Hoiberg, but the Cornhuskers are still just 4–9 in Big Ten play and 11–13 overall. They are set to graduate three essential pieces in Sam Griesel, Derrick Walker and Emmanuel Bandoumel. It's a logical time for a clean break with Hoiberg despite this year's improvements, though a $10 million buyout might complicate things, particularly given Nebraska also just spent big on a buyout on football coach Scott Frost. This is a job that lacks history, but its resources and big fan base could make it more attractive in the name, image and likeness age than it would have been years ago.
Leonard Hamilton, Florida State
Hamilton is 74 years old and staring down a rebuild, with his team stumbling to an 8–16 mark this season after a 1–9 start that included losses to Stetson, Troy and Siena. Could he be the latest big-name coach to step away from the game? If he does, the FSU job will be a coveted one and could have some major trickle-down effects. New Missouri coach Dennis Gates spent eight years under Hamilton in Tallahassee and would presumably be a primary target, though it might be difficult to pry him from Columbia after building considerable momentum in his first season.
Mark Adams, Texas Tech
Adams went to the Sweet 16 in his first season at Texas Tech, but this year's Red Raiders team is just 1–9 in Big 12 play and has beaten just one top-100 team all season. Add in substantial roster turnover under Adams and rumblings about booster frustrations, and it's at least worth keeping an eye on what happens in Lubbock this spring. A move here would be an indicator of a busy carousel, but even if Tech doesn't move on from Adams, it's worth watching how this situation develops for the 2024 cycle. If nothing else, it could bring about some staff changes.