When the Rays call and ask you to pitch for them, the first thing you do is say yes. The second thing is to clear off your mantel to make room for all the awards you're about to win.
Reliever Ryan Thompson, who joined the Diamondbacks in August after Tampa Bay released him, sums up the feeling thusly: "I want to sign with the Rays, just to see what they can tell me," he says. "Maybe they tell me to throw a certain pitch more or tweak something and all of a sudden, you're a superstar."
"Superstar" might be unfair, given that the most famous of these guys is best known for looking like Cillian Murphy, but a year in Tampa can certainly change the course of a pitcher's career—and pitchers know it.
The Rays, who won 99 games this year and will begin their fifth consecutive postseason run Tuesday, are a pitching factory. Of the 14 Rays pitchers who finished the season on the active roster, 10 had logged major league innings elsewhere first. Seven of them have a better career ERA in Tampa than at any of their previous stops. (And Zack Littell, whom the Rays recently promoted to the starting rotation, can probably be excused for the 0.11 he added to his ERA in a Rays uniform.)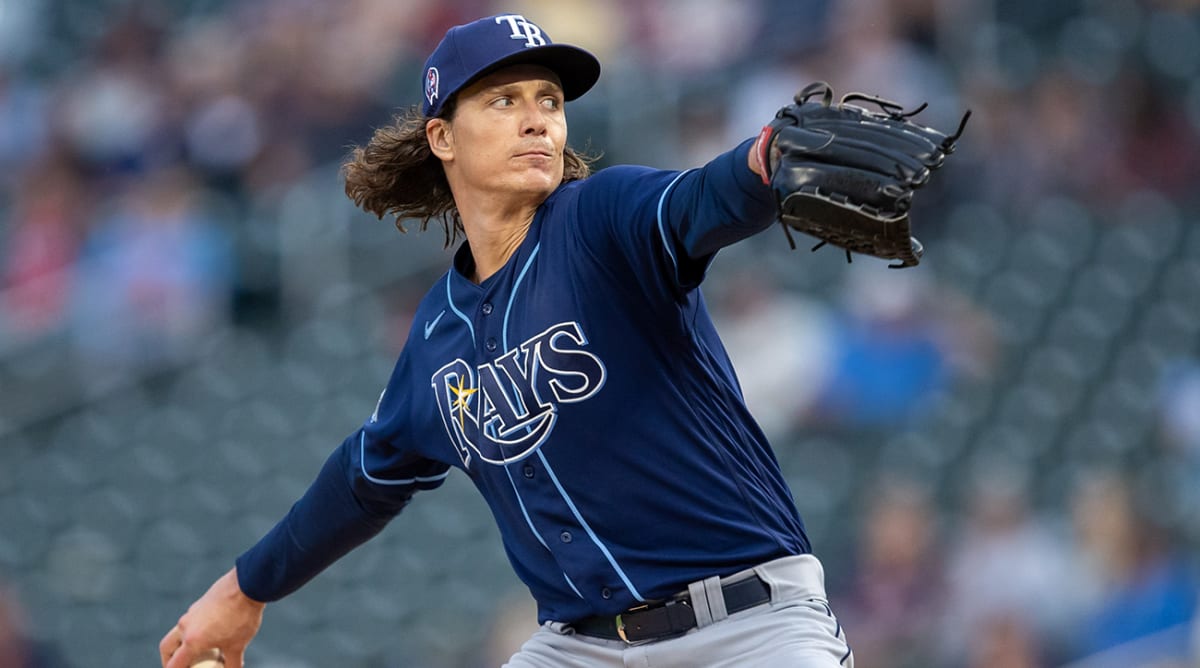 The characters rotate, but the plot remains the same. Starter Tyler Glasnow, who got to Tampa in 2018, is by far the elder statesman of the group, but since the beginning of that season, only the Dodgers and the Astros have allowed fewer runs than the Rays. Tampa Bay's payroll has averaged 27th in the league in that span, Los Angeles's third and Houston's seventh.
"If Tampa sees something in you, there's probably something there," says Littell. Reliever Jason Adam calls it "an honor" just to be on the Rays' radar. And their friends feel the same way: When reliever Robert Stephenson tried to say a somber goodbye to his Pirates teammates after a June trade to Tampa, they stopped him. "They were all excited for me to come over here," he says.
So when they get the call, pitchers treat it like an internship at the pitching lab.
"As soon as I found out I was coming, I was like, 'I don't know how long it's gonna be, but I'm gonna get as much [out of it] as I can,'" Littell says.
In his case, that meant asking a month after the Rays claimed him off waivers from the Red Sox in May if the coaching staff thought he might be a good fit for a sweeper, a slider whose movement is primarily horizontal. He was "half joking," he says. But pitching coach Kyle Snyder agreed, and 10 days later, the sweeper was game-ready. Littell, an 11th-round draft pick 10 years ago who was jettisoned twice this season by other teams, could start a playoff game for the Rays.
"It's been everything and more than I could expect," Littell says.
So how do they do it?
The collection of pitchers matters. Snyder works closely with president of baseball operations Erik Neander to target hurlers with at least one elite pitch—and, crucially, with a different repertoire from the others. The Rays believe stacking similar pitchers allows hitters to get comfortable—an effect perhaps as damaging as allowing a pitcher to face a lineup for the third time. They almost never bring in a pitcher whose arsenal looks like that of the man he is replacing. So to some degree, the success of the individuals comes because of the success of the group. But that's just one element.
Some pitchers are disappointed to learn when they arrive in Tampa that the Rays do not have much more information than anyone else. They value and present it differently, and they are perhaps more willing to share it with players than some other teams are. They make motion-capture data available to pitchers at their request, which means that when reliever Shawn Armstrong felt something was wrong in an outing this summer, he told Snyder he wanted to see the numbers.
"He's like, 'You're right,'" Armstrong says. "It's as simple as literally 1.2 degrees difference [of pelvic tilt], but this is the difference in two miles an hour." He used to stay up late at night when something felt off, tossing and turning as he tried to determine what the problem was. Instead he got the answer 18 hours after he asked for it (it takes some time to parse the data), and he slept well.
Still, all 30 teams have access to motion-capture data if they want it. What makes the Rays unique is who delivers the information.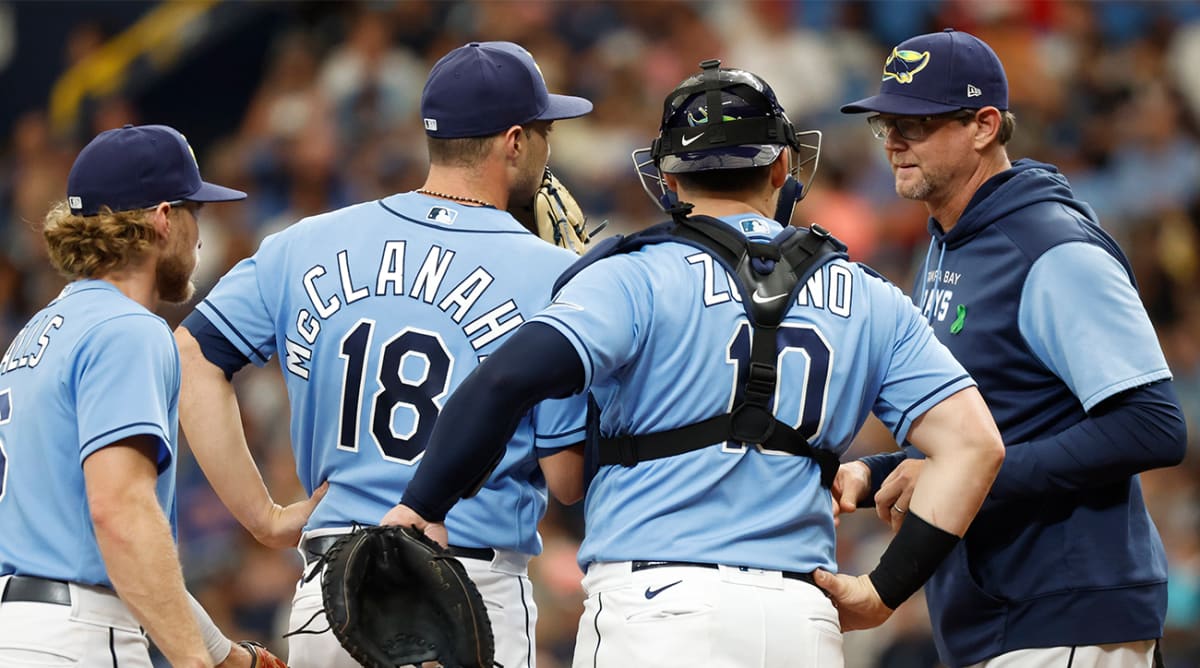 "Being around the league for a few years, everyone kind of knows," Armstrong says. "Kyle Snyder, Kyle Snyder."
Manager Kevin Cash says, "I think the thing that makes Kyle special is the way that he pours into it. Pitchers pick up on that." He adds, in mock frustration, "We get into spring training, we have all these guys in camp, and it pisses me off, because Kyle treats all of them like they're all ours. I'm like, Kyle, they're not going to be all ours! You don't have to tell them everything! They're gonna go to the Yankees, they're gonna go to the Red Sox and you're making them better! But he just has that obligation in his mind."
Snyder, 48, was a 21-year-old first-round draft pick and a 28-year-old waiver pickup and a 29-year-old World Series champion and a 33-year-old indie ball washout and everything in between. "I'm a teacher," he says. He prides himself on being the kind of coach a player would approach with an off-field problem. And he tries to understand what matters to them on the field. When veteran pitchers arrive, Snyder asks them to buy in fully for one month. He promises the organization will be patient with them as they try to make the changes the Rays suggest.
"Long leashes, basically," says Cash. "If we have information that we think can help this guy better and we're going to tell it to him in-season, we owe him the ability to work the kinks out, as he's trying to do that. If he's gonna say, 'I'm gonna be all in,' we gotta be all in for him."
And they try to be all in for the individual. Thompson spent the first four years of his career in the Astros organization, which is itself known for identifying pitchers on the margins and turning them into stars, but he did not find himself until he got to Tampa.
"Houston's very analytical, but it's a little bit different over there," he says. "I'm sure it's changed since I left, but one of the things with me was I've always struggled throwing a changeup, but their data shows changeups are good for everybody. And everybody should throw a changeup, and so they were really concerned with me throwing a changeup 10% of the time. And that was kind of a struggle for me. And so when I came over here, they were like, 'Look, these are your best pitches. Throw these more often.' And that really helped me to have confidence: Whatever I throw, just throw it in the zone."
Indeed, reliever Jake Diekman, who is 36 years old and pitching for his eighth team, arrived this winter excited to see what the Rays had for him. What they had, it turned out, was the same advice he'd been hearing since Little League: Throw strikes.
"Try to throw everything down the middle," he says. "Other people say that. But you trust it here."
And this is probably the key to what Snyder is able to do. Players arrive eager to implement the team's suggestions. The team's suggestions are generally good, but even when they aren't, players implement them with such conviction they often get good results. Then they want to implement more suggestions.
"All I care about is confidence," Synder says. "That's all I care about. I want these guys to feel 10 feet tall. If they come here and feel more confident simply by walking in the door, great. It's gonna help me help them."
As it turns out, it's the clearing of space for the award that makes you more likely to win it.