You have questions. I have answers. Let's go …
From Debbie (@Dinardismum): Will Bill Belichick get fired this year?
Debbie, I don't think Patriots owner Robert Kraft outright fires Bill Belichick. But I also don't think Kraft is pleased with the state of his team, so I certainly think there could be moves he makes that hasten Belichick's departure from the organization.
What could lead to those moves, I believe, is actually right in front of the Patriots now.
The losses of Matthew Judon and Christian Gonzalez, to me, will seriously test the depth of what I believe is a very good defense. A slip, which would be natural and understandable, could wind up putting pressure on the offense to carry its weight. That's where the team's attempts at upgrading the skill positions, and negligence in addressing the offensive tackle position could really show up.
A lot of people are focused on Mac Jones. I get it. He hasn't been great, and it's fair to question just how limited he is—Sunday, we got a look at how it looks when he has to carry the team. But, to me, the problem is larger than the roster. And, again, if Kraft feels like it's really dire, maybe he forces a restructuring to empower and or add to the scouting department. Which could cause Belichick to throw his hands up and walk.
I know a lot needs to happen to force Belichick's departure. But if things don't get better, I don't think such a scenario playing out is all that unrealistic.
---
From Jason Green (@HeelofaPanther): What does David Tepper do if Frank Reich wins two games or less?
Jason, Tepper sticks with him. And I know, it's going to hurt if that happens, because you might be handing a first or second NFL draft pick that would be worth a ton this year—whether you take a quarterback—to another team after enduring a 2–15 season. But that was the cost for trading up for Bryce Young.
Regardless of what anyone expected, the Panthers have a team that traded away Christian McCaffrey and DJ Moore within six months of each other, has an offensive line that's been an infirmary, and are starting a rookie quarterback. All of those moves have resulted in Carolina's talented defense having to carry the team. And even when the defense did plenty against the Vikings in Week 4, it wasn't nearly enough.
Which tells you that the roster is maybe still another offseason away from where it needs to be, especially at the offensive skill spots.
---
From Raul (@raulvibe): Any idea when Kyler Murray is coming back?
Raul, it's seemed, for a while now, like November was the early end of the timetable for a possible return for Murray, so my guess is we still have a ways to go.
What's really interesting is how Joshua Dobbs's play will factor into Murray's return. Through four games, Dobbs has done more than manage Drew Petzing's offense, and we all can agree he doesn't have a great cast around him. He's completed 70.7% of his passes for 814 yards, four touchdowns, no picks and a 99.4 passer rating. He's kept Arizona in every game, and he's done it despite showing up with about 10 minutes to go before Week 1.
Now, I'm not telling you that Dobbs will be the Cardinals' quarterback five years from now. But what Dobbs's play does, I think, is give the new Arizona brass a baseline for performance to work off in assessing Murray's play, assuming he does play, the rest of the year. And that'll make it a little easier to balance its decision-making at quarterback in April.
Murray's been studious, as I understand it, in working to learn the new offense—it's a big departure from the systems he played in through high school, college and his first four years as a pro (all of those had spread–Air Raid principles). And I think he'll need to be good to keep GM Monti Ossenfort and coach Jonathan Gannon from drafting a guy high in April, particularly if the Cardinals happen to have a top-two pick.
---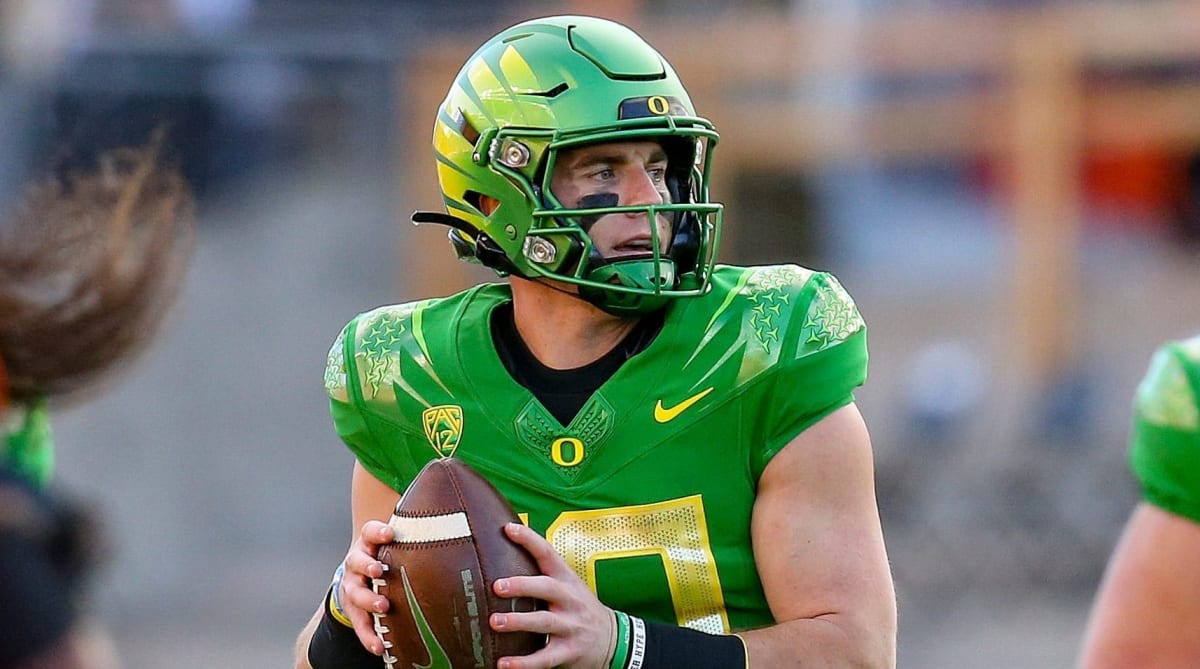 From Ryan Greene (@ryannn678): How is Oregon's Bo Nix viewed in NFL front offices? Typical college QB or next Justin Herbert?
Ryan, he's certainly not Justin Herbert. But there's no question he's helped himself.
Nix was barely on the NFL's radar after three years at Auburn, seen as a mostly marginal draft prospect. Then, in 2022, he transferred to Oregon and exploded—where he'd always been a really good athlete, Nix was throwing the ball a lot better. His completion percentage jumped, year over year, by 10 percentage points. He threw for 1,000 more yards than he ever did at Auburn, and threw for 29 touchdowns, 18 more than he did in '21, and 13 better than his previous high. He also rushed for 510 yards, more than he ever had in a season as a Tiger.
With all that success, though, there was the question of how much of it was the scheme and play-calling of wunderkind coordinator Kenny Dillingham. And with Dillingham now the coach at Arizona State, Nix has seemingly answered that question with an 80.3% completion percentage, 1,459 yards and a 15–1 TD-INT ratio through Oregon's first five games.
Now, Nix isn't in the stratosphere of USC's Caleb Williams or North Carolina's Drake Maye. But I'd borrow a line one experienced quarterback evaluator gave me back in the summer when we talked about Nix: It won't surprise folks if we wake up in late April, and he's, say, the 20th pick (or so).
---
From Treyquan (@FinlinTo): Who's the most impressive rookie QB so far this season?
Treyquan, it's C.J. Stroud, and it's not that close, as impressive as Anthony Richardson has been in Indy.
And that's because the way Stroud is playing is very, very sustainable. He's winning consistently from the pocket. Stroud called himself a "ball-placement specialist" at Ohio State, and there's a ton of evidence of that on tape. And that has translated seamlessly to the NFL, with Stroud consistently throwing the ball into tight windows, and putting his receivers in a spot to do something with the ball when they get it.
But what's impressed me most is his pocket movement. That was an area he had to work on, and in particular after he'd get hit, in college. The light seemed to turn on in his final college game—against Georgia—with how he used his legs both to run, and to extend plays. And that progress has proven not to be an aberration—his ability to keep plays alive, and keep his eyes downfield, has been much better than it was a year ago.
Richardson, for his part, has been awesome, and the athleticism he brings to the table is undeniable. He's also shown a really good demeanor and a calm in tough situations (which definitely showed in coming back from a 23–0 deficit Sunday).
So the arrow's pointing up on both guys. I just think what Stroud's done, to this point, is more impressive. And that, remember, is through only four games.
---
From JP (@Lilpopester): Do the Panthers need to finally commit to a real rebuild? How big of sellers are we going to be this month?
JP, they've … been around the whole time.
To me, the one player they have to make a decision on is Brian Burns. The reason why is because, over the past couple of years, they haven't gotten particularly close to a long-term extension, and what Nick Bosa did to the edge-rusher market probably won't help them get any closer, nor will it motivate Burns to take anything resembling a discount to stay.
That puts the Panthers in a spot, especially if they keep spiraling out of contention, where they have to be honest with themselves on whether they'll pay the guy. And it's hard to imagine Burns happily playing on the franchise tag next year, so the next six months or so seem to be a critical point in a negotiation that hasn't gone very far, and has been very off and on throughout.
Last year, the Panthers turned down first-round picks in 2024 and '25, and a third-rounder in '23 for Burns from the Rams at the deadline. This year, unless they make real progress toward a deal, I'd think they'd have to take something like that.
And as for everyone else? If I'm Reich and Scott Fitterer, I'm not moving guys such as Ickey Ekwonu, Jaycee Horn, Jeremy Chinn or Derrick Brown.
---
From Zeze (@Zezex0_0): How impressive is the Cardinals' coaching job so far? Or were tanking allegations simply underrating the squad?
Zeze, I think it's the job that staff has done. The schemes are good. The effort's been great. The team's playing together. If you look at the depth chart, it's all there for you.
They have three homegrown first-round picks on the roster. One is rookie Paris Johnson Jr., the team's right tackle, and another is his bookend, ninth-year left tackle D.J. Humphries. The third is linebacker Zaven Collins. And of the six guys who've played in Pro Bowls on the roster, two are hurt (Murray and Budda Baker), one is a seventh-year running back (James Conner), one turns 33 next month (Zach Ertz) and another is the kicker (Matt Prater). That leaves Humphries, who's probably more good than great.
So that's what Jonathan Gannon & Co. are working with. The roster has a long way to go. But there's plenty to be excited about, too, with Johnson leading a promising group of rookies, and two first-rounders coming in April, and the staff showing an ability to get the most out of those picks. You'll just have to be patient with it.
---
From Raiders 7–14 get Caleb and Ben (@JohnIsaac55): I wanted Josh McDaniels to be good, but I've lost faith, and now fans are arguing with owner Mark Davis, and he says we are not smart. What does Mark see that we don't?
Raiders, I'm assuming you mean Caleb Williams and Ben Johnson, and I'd say that, at this point, we're talking about 21 games, and a roster that's undergone a lot of change.
Now, there are things that you can look at and objectively point the finger at Josh McDaniels and GM Dave Ziegler. One, certainly, would be the signing of Chandler Jones, a player they knew from New England. Another would be the overall production of the offense, a unit that ranks 26th in yards and 25th in points a year after being 12th in both categories.
On the flip side, what the Raiders were banking on coming into the year was the idea that they'd be a smarter, more cohesive team in adding savvy vets such as Robert Spillane, Marcus Epps and Jimmy Garoppolo to a roster that had a pretty good base of talent. But after a 1–3 start, that gets tested now, with two games coming up against Green Bay and New England—that on paper look relatively even—and should be winnable.
If the Raiders are 1–5 coming out of those games, then maybe the discussion changes. But I'd say what Davis sees at this point is the amount of work that's gone into the guts of the roster, and the heavy investment he made in changing the face of the football program. It's understandable that he wouldn't want to pull the plug.
---
From sportsfan0275 (@sportsfan034722): Is Daniel Jones a trade candidate this season?
Sports fan, no. The Giants loved the summer Daniel Jones had, and the offensive line's issues early on are probably more the culprit than the quarterback's play.
And besides, at this point, no one is trading for the contract Jones just signed.
---
From Buffalo Sports Chatter (@buffsportschat): Who in their right mind would have the Eagles over the Bills in power rankings?
Conor Orr! (I'd have those two close, too … but, yes, the Bills are playing great.)
---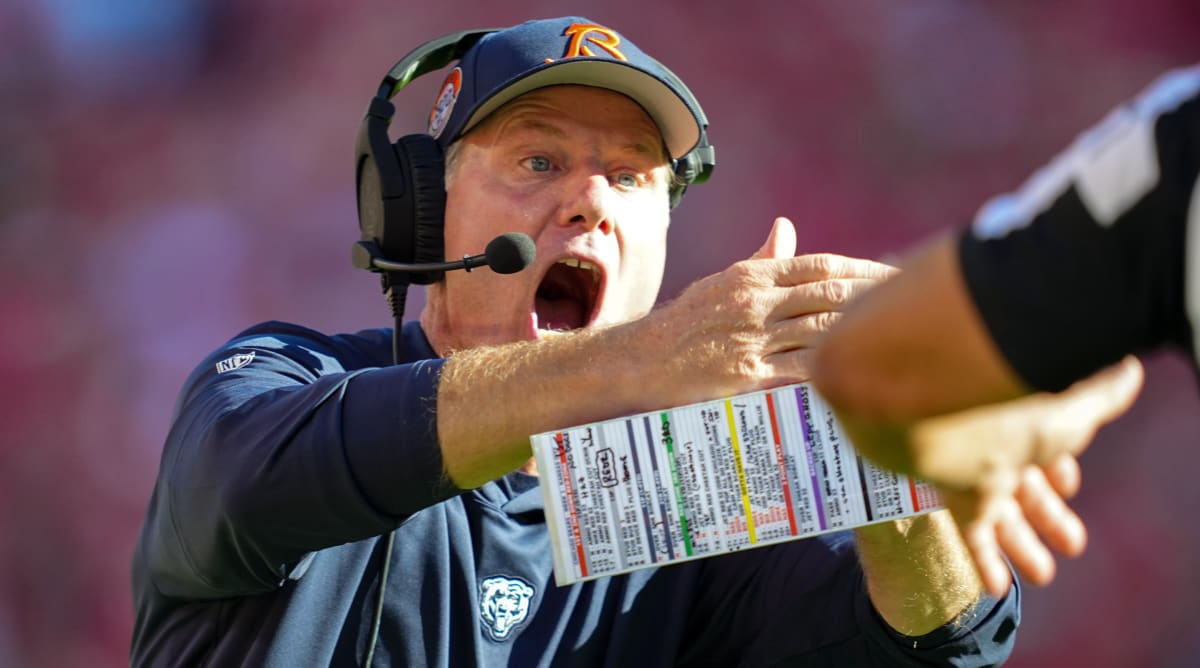 From Nick Palazzolo (@NickPalazzolo5): If Matt Eberflus loses Thursday night, can the Bears afford to let him ride out the season as head coach? It's been so bad and it's only Week 4.
Nick, I think the only reasons to fire a coach in-season are if (a) he's lost the locker room, (b) keeping him is disrupting the developing young players or (c) you want to signal to a big-name candidate your job will be available, and be able to do your early work on a coaching search out in the open (rather than hiding it).
I don't think we're there yet on Eberflus. Now, if the Bears no-show against the Commanders, maybe we're talking about something else. But Chicago looked plenty engaged coming back from a shellacking in Kansas City on Sunday—effort wasn't the reason the Bears blew that lead to the Broncos. So I think you ride it out, and see what Eberflus and his staff can do with the team they put together to fit the systems they've put in (and that you've invested heavily financially).
Now, when we get a little further down the line, we'll see. The McCaskeys did pull the plug on Marc Trestman and Phil Emery after two years (and John Fox was gone after three), so it's not like there isn't a history there of the family having a quick trigger if they feel like things are heading in the wrong direction. Which is why I think, as much as Eberflus's record, the long-term trajectory of the Bears will determine how much change ownership looks for after this year.
---
From Zach The "Chiefs SBLVII Champs" Guy (@thelaymansterms): Anticipated sellers beyond the Broncos at the deadline? Any dark-horse trade candidates?
Zach, the Broncos are interesting, and if they beat the Jets this weekend, they're right back in it. So we'll see whether Jerry Jeudy, Courtland Sutton and Justin Simmons are available as we get closer to the Oct. 31 deadline.
As for the other teams that could make veterans available, you'd certainly look at Arizona (Ertz?). We've already touched on the Panthers. It's also worth looking at the Vikings, and wondering whether Danielle Hunter or Harrison Smith could elicit phone calls if Minnesota stumbles again, with this being a reset year for second-year GM Kwesi Adofo-Mensah and coach Kevin O'Connell.
---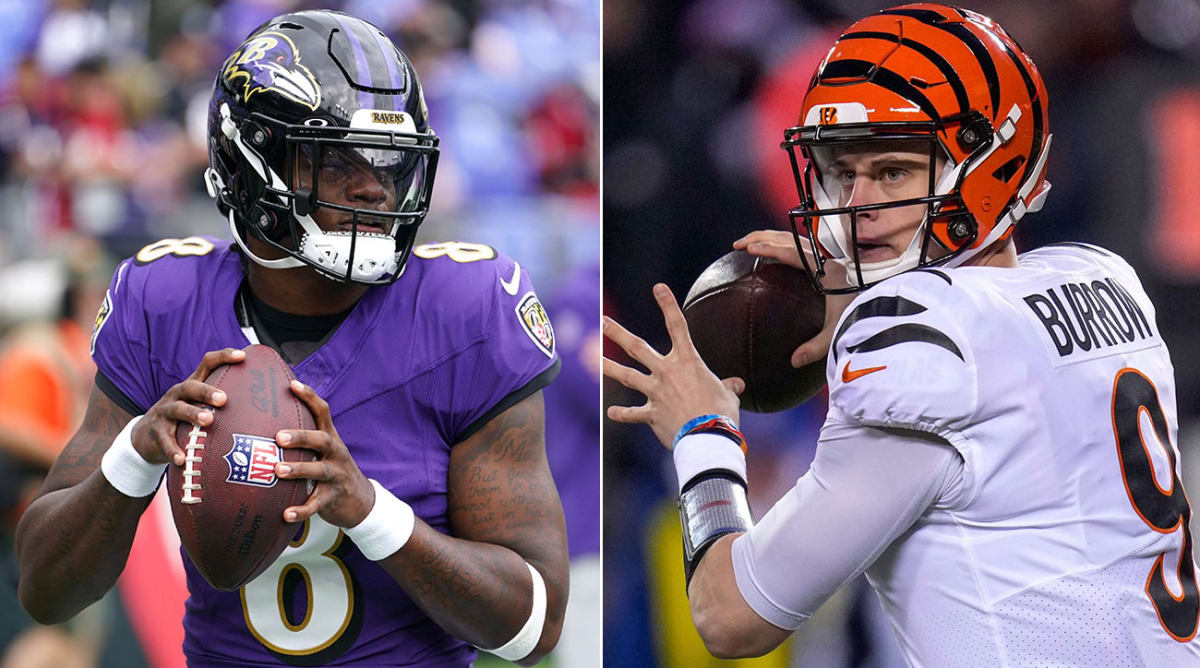 From josh weirich (@jwire25): Who wins the AFC North? Why?
Josh, I picked the Bengals, and I'm not ready to back off that quite yet. But they're already two games behind a Ravens team that they already lost to, and one that I think will breeze to double-digit wins. I just think there'll come a point, and maybe I'm the last person on this island, when Cincinnati's going to put its foot on the ground and go.
(If the Bengals lose to the Cardinals on Sunday, check back with me.)
---
From Matt Ramas (@matt_ramas): With the speed of the game always getting faster, do you think officiating crews will ever operate differently or more accurately than they do today? A couple of guys using two sticks for measurements seems hilarious.
Matt, I think we're slowly starting to see that with the camera in the pylons at the first-down marker. I'm gonna cut the league a little slack here, too. They really do have to make sure stuff is foolproof before they have these things out there in prime time. And I just don't know if, for example, sticks with digital lines rather than chains are ready to roll where they'd be a big improvement. I'd bet that's coming, though.
---
From Ian Shalk (@Jiren_us): What's your opinion on you calling the Brotherly Shove a rugby scrum when the play is not allowed in rugby. Thoughts?
Ian, I was against the Brotherly Shove at the end of last year. Then I saw everyone else try it this year—and saw so many others fail at it. And it makes me feel like it'd be bad to take something away just because one team is really good at it. Because more than a cheat code, this simply seems to be something the Eagles have mastered and, with a quarterback built like a tailback and an elite offensive line, are uniquely positioned to execute.
You, of course, could argue that eliminating the play would be a positive health-and-safety change. But it's not like this is something teams are required to do. Putting in the play and calling it is a choice. And, again, one that seems to work only at that impossibly high level with one team.