Lamar Jackson waited almost a full month between his actual trade request from the Ravens and the moment he announced he had made it. While he didn't share the reason, the timing is so perfect we can assume: John Harbaugh was scheduled to speak to the media at the league owners' meetings right when the tweets came through Monday. Jackson's timing placed the ball in his coach's court, likely in an attempt to expedite a resolution that is seemingly becoming more complicated by the minute.
But in reality, the picture is pretty clear.
Here are Jackson's four options:
• He can sign his franchise tag and play the 2023 season for about $10 million less than he would receive if he'd accepted the three-year, $133 million offer that he claims is on the table.
• He can accept whatever long-term offer is on the table from Baltimore. Perhaps he has even pushed the Ravens further than the previous offer he shared publicly.
• He can sit out the year, and, if he doesn't make a legitimate attempt to play or "hold in," then his contract will not toll and the Ravens can simply franchise him again for the same number. (I have sent an email to the league asking for clarity on the situation, though contract advisers I have spoken to have said that this is why clients typically do not hold out on the tag, with Le'Veon Bell a notable exception.)
• He can be traded, which would necessitate a team valuing Jackson more than the Ravens currently do, and that team forking over at least two first-round picks in a fairly quarterback-heavy draft (or negotiating a bigger deal) in addition to what they'd pay Jackson.
Because Jackson specifically outlined a trade request Monday, let's deal with that aspect here. Where could he go? While almost every team in the NFL, CFL, XFL and USFL denied interest in the aftermath of the Ravens' placing a nonexclusive franchise tag on Jackson, we all know situations are fluid. Below are the most sensible options.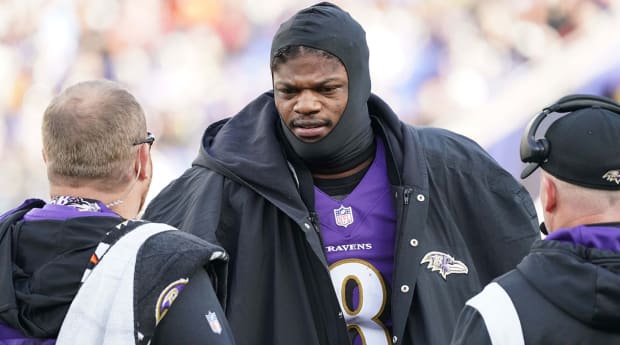 1. Baltimore Ravens
I still expect Jackson to stay put, rather than land somewhere new. While Monday's escalation showed that Jackson has some moves—releasing a statement on the day the team is expected to talk and, thus, be forced to respond is a move straight out of a veteran agent's playbook—this is not much different than, say, Kyler Murray's agent releasing a statement laying down the gauntlet before negotiations reached a more serious stage. It's just that Jackson does not have an agent, so he has to get in the foxhole himself.
Franchise-tag negotiations are always somewhat acrimonious. Remember Jerry Jones pretending not to know who Ezekiel Elliott was? It's important for us to remember that just because the vehicle is a bit different—a self-represented MVP quarterback who has largely tried to shape the public narrative through social media—doesn't mean we should expect any less.
Here's a prediction: Jackson will sign for three years, and all will be well before the start of camp. I don't think he has many other options. While no player should be punished for standing up for themselves, I would be hard pressed to find an organization that wants to surrender a quarter billion dollars for a player they can't assume will be the kind of puppet the franchise so desperately wants. There would always be the threat of an Aaron Rodgers–like foray into the public space to handle business that teams wish would remain private. I think that while Jackson has probably strengthened his position with Baltimore, he has likely weakened it elsewhere.
2. Indianapolis Colts
If the Colts decide to go this route, they're going to wait until after the draft. There is no way GM Chris Ballard, who did not want to surrender significant draft capital to push his way up this year's draft board, is going to give up the No. 4 pick and whatever first-round pick Indianapolis has next year for Jackson. That is simply not going to happen.
I think the only way they, and really any team, would get involved is if there is an indication that Jackson is willing to seriously come down on his price tag. If the thorn in Jackson's paw right now is Baltimore specifically and the emotional sting of the team he has starred for not kowtowing to him, he'd have to make clear to the Ravens that they should not match whatever offer comes in and be happy with their two first-round picks. Would Baltimore play ball? Would Jackson? Would the Colts?
All these moving pieces make a trade seem more unlikely. However, if you'd like my dream scenario here, it's this: I would draft Anthony Richardson at No. 4 if I were the Colts, and I would play Richardson and Jackson together, on kind of a sliding scale. At first, Jackson would play 90% of the reps, and by the time a high-end, short-term contract Jackson signed with Indianapolis ends, Richardson would theoretically be ready to take 100% of the full-time workload. That way, the first-round picks I gave up for Jackson do not cost me the No. 4 pick and the shot at a cost-controlled rookie quarterback.
Is this far-fetched? Absolutely. But so is a team giving up two first-round picks and $250 million fully guaranteed for Jackson right now.
3. Washington Commanders
I still think we can't totally eliminate the Commanders from any scenario, because the franchise is for sale. A rich person can buy a team and do with it whatever they please. So what if the Commanders are invested in Sam Howell and Jacoby Brissett right now? Pretend you are a billionaire who is willingly going to give up your weekends to spend time in suburban Virginia. You set an alarm on your Richard Mille timepiece and barely get a glass of Screaming Eagle cabernet down your throat during the flight from some private Caribbean island, and you enter your aging-like-an-old-Marriott luxury suite to watch a fifth-round pick plod the offense down the field?
Hell no.
You're going to try to fill that decrepit old stadium to the brink while you twist political arms to get a new one in downtown Washington, D.C. Jackson is the only player famous enough to make that happen who is available on the market right now.
FABIANO: Best Fantasy Landing Spots for Lamar Jackson
4. New England Patriots
I think Bill Belichick views first-round picks, especially in the mid-to-late first round, as expendable for the right price. While Bill O'Brien doesn't strike me as the kind of offensive coordinator who would stand on the table for Jackson—and we can be sure he'll have a heavy say in how the offense is designed now that he has been tapped to come in and clean up the mess—Jackson does, in a lot of ways, fit the profile for an offense that would cater well to Belichick's defensive philosophy. Belichick likes ball-control offenses. He likes double-tight end sets. He likes using a fullback. He likes minimizing the chances of something bad happening with the football.
So did the Ravens.
If the Patriots come to the realization, maybe in spring ball, that Mac Jones isn't going to get them where they want to be, they can be latecomers to this melodrama. Jackson would immediately make them a factor, despite their lack of relative firepower on offense. Would it make sense to pay Jackson $46 million if you're the Patriots? Probably not. But, if you look at it from an economic standpoint, would it make sense to do it for two or three years, and, in that time, you don't have to pay an elite receiver or running back because Jackson's presence minimizes the desperate need for one (given that we've seen Jackson successfully operate an offensive that is largely tight-end-driven)? You can spend the life of Jackson's contract trying to acquire high-end skill-position players in expensive markets via the draft.
The consistent lack of a high-first-round pick is one of the major factors, I think, for a possible Jackson trade. I could make a fine case for the Texans' being interested, for example (even if I don't think Jackson fits with the Kyle Shanahan QB prototype that new OC Bobby Slowik would likely want), but I don't think they would willingly sacrifice a possible top-five pick now or any time in the near future.
5. Miami Dolphins
Here's why I think the Dolphins can, and should, jump back into the Jackson sweepstakes: They are so maxed out right now in terms of investments and assets. They have the league's highest-paid defensive coordinator in Vic Fangio. They have one of the league's highest-paid wide receivers in Tyreek Hill. They have one of the best cornerbacks in the NFL in offseason acquisition Jalen Ramsey. I believe Mike McDaniel when he says he believes in Tua Tagovailoa, who just had his fifth-year option picked up, but there is a legitimate concern as to how Tagovailoa's body will hold up through the rigors of an NFL season. The Dolphins cannot get themselves to the doorstep of the playoffs again without an overabundance at the position. While the prospect of playing a left- and right-handed quarterback in one game feels like a nightmare for the team's skill-position players, is it better than passing on the opportunity to make a legitimate Super Bowl run when you have everything else lined up?
McDaniel could bridge the gap between Baltimore's offense and what Jackson would run in Miami, with a hidden benefit being less taxation on Hill, who absolutely wore down over the course of a season because he had to carry so much of the burden both pre- and post-snap. Jackson brings his own dynamics to a backfield that will seriously complicate life for defensive coordinators, which is the kind of advantage McDaniel thrives on.
The Dolphins shouldn't be thinking long-term, because their time is now. Their window is rapidly closing.