The NFL's annual coaching carousel has slowed to a crawl as free agency has begun in earnest and anticipation for the 2023 draft is rapidly building.
That means the coaching staffs of the league's 32 teams are mostly set for the upcoming season. Naturally, there will be a number of new faces at training camp meetings, including a number of newly minted defensive coordinators.
In a league where change is constant, none of the current defensive coordinators has held his position longer than four years.
With that in mind, here's a look at all of the NFL defensive coordinators for the 2023 season:
NFC East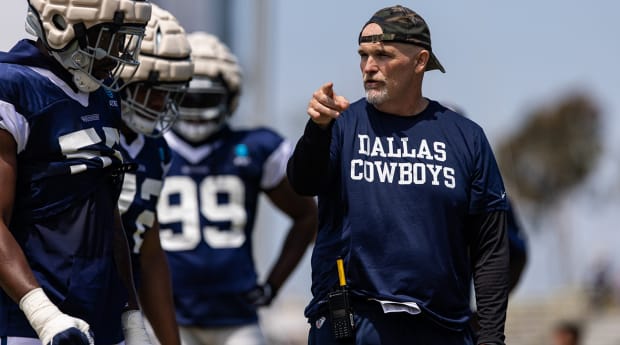 Dallas Cowboys, Dan Quinn: Once again, Quinn was rumored to be one of the NFL's most coveted assistants during the offseason, but once again, he didn't go anywhere. The Dallas DC led a defensive unit that was a big-play machine, racking up 54 sacks and 16 interceptions this past season. He previously coached the Falcons to Super Bowl LI in the 2016 season.
New York Giants, Don Martindale: The 2022 season was Martindale's first as New York's DC. He was a longtime assistant for the Ravens before taking this job and has been coaching in the NFL since 2004.
Philadelphia Eagles, Sean Desai: Desai replaces Jonathan Gannon, who left the Eagles to coach the Cardinals. Desai served as the Seahawks' associate head coach last season and now takes over a Philadelphia defense that was one of the league's most dominant units in 2022. He became the Bears' DC in 2021, marking the first time a person of Indian decent served as an NFL coordinator.
Washington Commanders, Jack Del Rio: Del Rio has served as Ron Rivera's DC for the past three seasons. He previously served as head coach of the Raiders (2015-17) and Jaguars (2003-11). As a head coach, he has compiled a 93–94 career record.
NFC North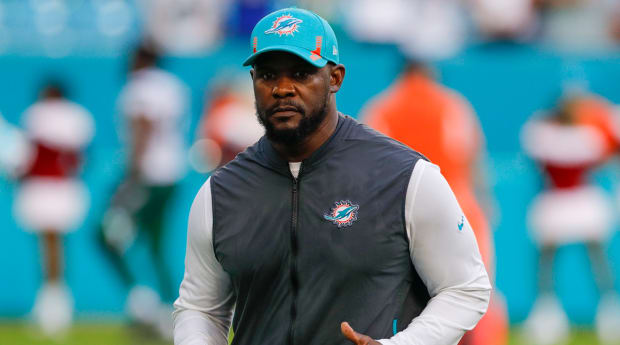 Chicago Bears, Alan Williams: Last season was Williams's first as Chicago's DC, and all parties involved knew it would be a rebuilding year. The Bears ranked 29th in total defense last season and dead last in the NFL in points allowed (463). Williams previously has held assistant jobs with the Colts, Lions, Vikings and Buccaneers.
Detroit Lions, Aaron Glenn: Glenn has held this position since 2021, and he previously served as defensive backs coach for the Browns and Saints. He played in the NFL for 15 years as a defensive back, earning three Pro Bowl selections. He and Lions coach Dan Campbell were teammates with the Cowboys in '05.
Green Bay Packers, Joe Barry: This will be Barry's third season as Green Bay's defensive coordinator. He is the son-in-law of Raiders defensive line coach and former Lions head coach Rod Marinelli.
Minnesota Vikings, Brian Flores: The former Dolphins coach took the Minnesota job after serving as linebackers coach for the Steelers in 2022. He was a longtime Patriots assistant before landing his first head coaching job with Miami.
NFC South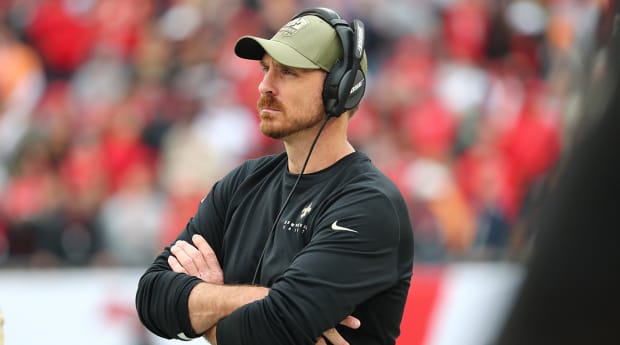 Atlanta Falcons, Ryan Nielsen: This upcoming season will be Nielsen's first year with Atlanta after spending the past six seasons with the Saints, where he rose to the rank of co-defensive coordinator.
Carolina Panthers, Ejiro Evero: Carolina welcomes Evero for his first season with the team after serving as the Broncos' DC last year. This is his sixth NFL team as an assistant coach.
New Orleans Saints, Joe Woods: The former Browns DC joined New Orleans after Cleveland fired him when the 2022 season ended. This is the seventh NFL team he's worked for since '04.
Tampa Bay Buccaneers, Larry Foote, Kacy Rodgers: Tampa Bay has a unique arrangement with co-defensive coordinators. Rodgers serves as the run game coordinator and defensive line coach, while Foote serves as the pass game coordinator and linebackers coach. Head coach Todd Bowles also boasts a defensive background.
NFC West
Arizona Cardinals, Nick Rallis: The former Eagles linebackers coach became the youngest coordinator in the NFL when he got the Arizona job. The 29-year-old got his first NFL job with the Vikings in 2018 and has been climbing the ranks ever since.
Los Angeles Rams, Raheem Morris: Morris won a Super Bowl with Los Angeles in his first year with the team in the 2021 season. He previously served as head coach of the Buccaneers from 2009 through '11.
San Francisco 49ers, Steve Wilks: After posting a 6–6 record as the interim coach for Carolina, Wilks was passed over for the Panthers' full-time head coaching role, allowing San Francisco to hire him instead. He'll be a welcome addition to last year's No. 1 defense, which was guided by new Texans coach DeMeco Ryans. Wilks also coached the Cardinals for one year in 2018.
Seattle Seahawks, Clint Hurtt: Hurtt's first season as Seattle's DC ended with a postseason appearance, but his defense still allowed 401 points in 2022—ranking 25th among the NFL's 32 teams. Before that, he was the Seahawks' assistant head coach and defensive line coach.
AFC East
Buffalo Bills: Leslie Frazier has been at the helm of Buffalo's defense since 2018, and since that time the unit has been one of the most successful in the NFL. However, the team announced in February that Frazier would be stepping away for the 2023 season. Buffalo has yet to name a replacement, and it's unclear whether Frazier will be back with the team in '24.
Miami Dolphins, Vic Fangio: The former Broncos coach was hired by Miami this offseason, marking this his sixth stint as an NFL DC. Fangio enters 2023 as one of the most experienced coordinators in the pros.
New England Patriots: New England doesn't have an official defensive coordinator. However, Bill Belichick's son and the team's linebackers coach, Steve, has spent the last three seasons as the defensive play-caller.
New York Jets, Jeff Ulbrich: Ulbrich had one of the best young defenses at his disposal in 2022, and the numbers prove it. The Jets ranked seventh in the NFL in sacks (45) despite their NFL-low blitz percentage (14.9%) and also allowed the fourth-fewest points (316). He got the job in '21 after holding several positions with the Falcons since '15.
AFC North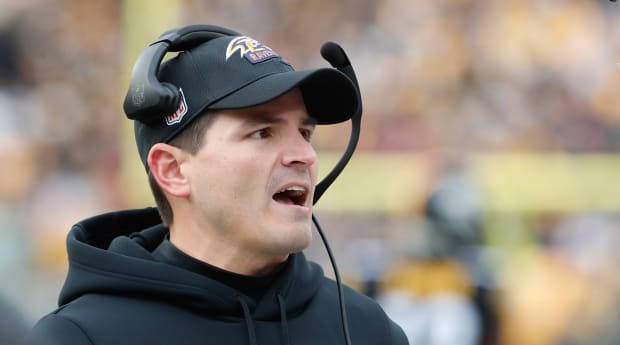 Baltimore Ravens, Mike Macdonald: Macdonald was on the Baltimore coaching staff from 2014 to '20 until he took the DC job at Michigan. After helping Jim Harbaugh's Wolverines reach the College Football Playoff in the '21 season, he returned to John Harbaugh's Ravens in '22 to become the team's DC.
Cleveland Browns, Jim Schwartz: The 2023 season will be Schwartz's first in Cleveland since serving as a personnel scout with the organization in the 1990s. Since then, he has worked for the Ravens, Titans, Lions, Bills and Eagles. All of his roles were as an assistant, except for his head coaching job in Detroit from 2009 to '13.
Cincinnati Bengals, Lou Anarumo: Anarumo served as the Giants' defensive backs coach before getting the Bengals job in 2019. Prior to New York, he was a Dolphins assistant from '12 to '17. He and Cincinnati coach Zac Taylor coached together in Miami until Taylor left in '15.
Pittsburgh Steelers, Teryl Austin: Austin was promoted to DC last season after three years as a Steelers defensive assistant and secondary coach. They ranked 10th among the NFL's 32 teams in points allowed in 2022. He previously has coached for the Bengals, Lions, Ravens, Cardinals and Seahawks.
AFC South
Houston Texans, Matt Burke: Burke is entering his first year with the Texans and 20th overall in the NFL. Prior to coaching the defensive line for the Cardinals last season, Burke served in various roles for the Jets, Eagles, Dolphins, Bengals, Lions and Titans.
Indianapolis Colts, Gus Bradley: The former Jaguars coach spent his first year with Indianapolis in 2022, but it was a forgettable one. The Colts ranked 15th in total defense last season (334 yards allowed per game) but tied for 28th in scoring defense (25.1 points per game). Bradley coached Jacksonville from '13 to '16 and also has served as DC for the Chargers, Raiders and Seahawks.
Jacksonville Jaguars, Mike Caldwell: The former NFL linebacker was a rookie DC in 2022, and it ended with Jacksonville's first playoff appearance since 2017. He and Jaguars coach Doug Pederson previously worked together in Philadelphia.
Tennessee Titans, Shane Bowen: The 2023 season will mark Bowen's third year as Tennessee's DC, and he will look to turn around his once-elite defense. The Titans ranked last in the NFL in 2022 against the pass, allowing 274.8 yards per game through the air and 29 touchdown passes.
AFC West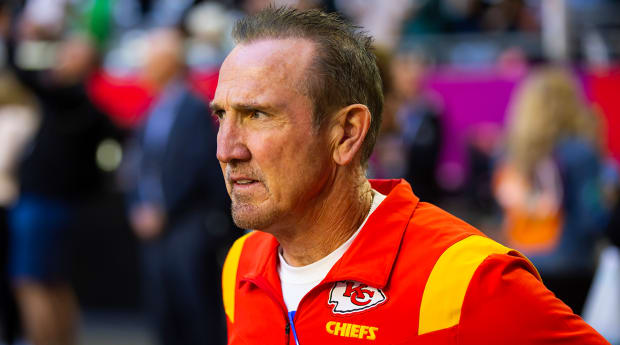 Denver Broncos, Vance Joseph: Joseph was fired after two seasons as the Broncos head coach on Dec. 31, 2018, but now he returns to Denver to work under Sean Payton. Since Joseph's dismissal by the Broncos, he served as the Cardinals' DC.
Kansas City Chiefs, Steve Spagnuolo: Spagnuolo has been coaching in the NFL since 1999 and is one of the most experienced coaches in all of football. He won a Super Bowl as DC of the Giants and two more with the Chiefs. He served as head coach of the Rams from 2009 to '11.
Los Angeles Chargers, Derrick Ansley: Los Angeles promoted Ansley from defensive backs coach this offseason. It'll be his first job as an NFL DC. He won national championships as an Alabama assistant during the 2011 and '17 seasons.
Las Vegas Raiders, Patrick Graham: Graham's first year as Las Vegas's DC was 2022. The Raiders ranked 26th in the NFL in points allowed (24.6 per game) and 29th in passing yards allowed (4,129), ultimately finishing 6–11. He and Raiders coach Josh McDaniels worked together on Bill Belichick's Patriots staff from '12 to '15.