It was Sunday morning in Austin, and David Mulugheta was winding through the city from his house, headed to pick up one of his highest-profile clients for their second day together at South by Southwest. The client, Jalen Ramsey, was waiting in the lobby of his hotel. Dolphins GM Chris Grier, on the other side of the negotiation, was at home in South Florida, and Grier's coach, Mike McDaniel, was on a floatie with buddies for his 40th birthday weekend.
The trade that was about to go down, as Mulugheta dialed up Ramsey to tell him—not wanting to wait until he saw him in person, with how fast news travels these days—was a very 2023 transaction in that it was done, more or less, by everyone remotely.
And that was hardly the only new-age element to the deal.
On one side was a team feverishly taking its final swings to leverage the edge of having a starting quarterback on a rookie contract. On the other was a rival in the opposite position, looking to clean out its cap and go through the kind of one-year reset that other teams have recently, to take care of a boatload of salary-cap debt in one fell swoop. Most of all, in the middle, there was the player and his agent, fully and completely aware of their power.
"I prayed for this specifically for about a month," Ramsey tweeted, "and now it's happening!"
A couple of hours before that missive, Mulugheta was welcomed to Ramsey's hotel with an ear-to-ear smile from the three-time All-Pro corner. Their vision for the next step in Ramsey's career had manifested, and it was in large part not just because Miami's newest shutdown corner knew the sort of leverage he had. It was also because everyone else understood that he knew that, too.
That part, in fact, mattered a lot. Which we'll explain in The MMQB Lead for this week.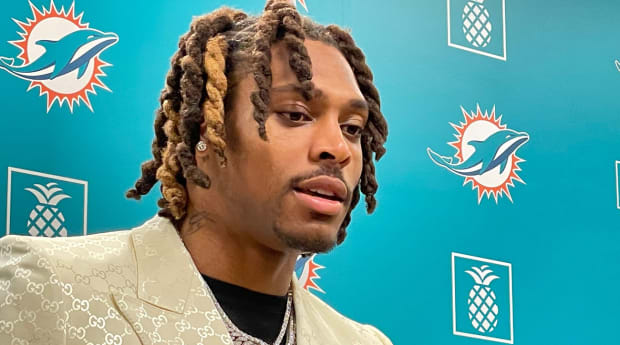 ---
We're through a full week of free agency, and we've got plenty for you on the site today. Including …
• One more look back at the trade of the first pick, with the help of Bears GM Ryan Poles.
• A good talk with Jimmy Garoppolo, on the 49ers and how his relationship with Josh McDaniels led him to Las Vegas.
• Notes on a bunch of things related to free agency.
But here, we're going to dive into the Ramsey trade.
---
The first thing you need to know about all this: Ramsey didn't want to leave L.A.
His daughters were comfortable there. He liked playing for Sean McVay and Raheem Morris. His contract held up over time. He won a Super Bowl there. He saw himself, in time, retiring a Ram.
But Ramsey's also going into his eighth NFL season, and as the same player who once announced his desire for a new contract by showing up to Jaguars training camp in a Brink's truck (yes, an actual Brink's truck), he understands the business side of the game. And it was that business side that McVay was coming to him to discuss in January as the Rams started to shape their plan for the offseason.
McVay explained to Ramsey that the team was looking to conduct a significant cap cleanup over the following couple of months, plus replenish its war chest of draft picks after years of dealing picks away. Los Angeles would at least explore trading Ramsey as part of it.
The hard reality was that Ramsey was probably the most tradeable within the Rams' constellation of stars. Aaron Donald and Cooper Kupp were both homegrown, a little older than the corner, and Donald, specifically, would probably rather retire than go to most other teams. Trading Matthew Stafford would have larger implications, of course, given that he plays quarterback. And McVay took Ramsey through all of that, promising to keep him abreast of any further developments.
Los Angeles's plan went well beyond just the idea of moving its top corner. If the Rams ever wanted to be aggressive in trading for veterans in the future, as they had been over McVay's first six years, they'd need more cap, cash and picks to pull it off. They'd realized it in looking back at their effort to poach Brian Burns from the Panthers in the fall—and how doing the deal and paying Burns, as good as Burns is, would've hobbled them from a flexibility standpoint going forward.
If McVay, GM Les Snead, COO Kevin Demoff and lead negotiator Tony Pastoors had decided to kick the can down the road cap-wise for another year, could they have done it? Of course they could have. But they'd done enough of that over the years to make two Super Bowls, win one and, last year, try to defend that championship, creating a natural crossroads.
Simply put, if the Rams went the other way, pushed more money off and eschewed a one-year, dead-cap purge (like the Bears and Falcons did last year, or the Bills did in 2018), then they'd be looking at a multiyear dig out from all the debt they'd rung up.
So they cut Bobby Wagner and Leonard Floyd, gave Allen Robinson's agent permission to find a trade (knowing it'd be unlikely someone would take on Robinson's money) and put Ramsey on the block, hoping that the combination of his résumé, his contract, his premium position and his unique skill set would generate a market.
Ramsey understood that, even if he was a little disappointed initially after talking to McVay. The corner also knew, with time, he'd have his say.
---
Two weeks before the combine, Snead started calling around to gauge where teams might stand on trading for players on his roster, to both try to get values on them and also put together lists of interested clubs.
The Dolphins, of course, had heard rumors that Ramsey might be available. But that, for Grier, was when he knew definitively it was the case. Grier told Snead he might have an interest in Ramsey; Snead responded, "take a look at it," and then reminded Grier that the Rams wouldn't be at the combine. The two agreed to stay in touch, and Grier went to work.
Grier jumped into the tape and, before long, he called McDaniel (who'd been in a meeting interviewing assistant coaches at the time) and asked him to come in and, to borrow Snead's words, take a look at Ramsey with him. They watched Ramsey together, and then called new defensive coordinator Vic Fangio to get his opinion.
What they saw on tape was a player who was as physical as he'd ever been, playing the nickel corner spot and being moved around more than he had been earlier in his career. Ramsey could still run. He could still cover. The ball skills, instincts, smarts and playmaking ability were still there, even through some ups and downs.
It was also easy for the Dolphins, and in particular Fangio, to translate what Ramsey had done with the Rams into Miami's new defensive system. Brandon Staley, a Fangio disciple, brought that system to Los Angeles in 2020, and Morris had maintained many of its principles in the two years since. And so, in putting all of it together, Miami's football people decided that, yes, it'd be great to add Ramsey to the roster.
The next step was Grier going to lead negotiator Brandon Shore, team president Tom Garfinkel and owner Stephen Ross to get their input, and start to work on what they'd be willing to trade for Ramsey, and also what it might take contractually to get him on board.
Snead wound up calling Grier at the end of combine week, with Grier still in Indianapolis, to circle back and further gauge his interest. By then, he'd given interested teams permission to talk to Mulugheta about Ramsey, as well as to Ramsey himself. And as Snead continued to work through the process of dealing off his star with a contract to match, Ramsey already had an idea of how this story was going to end.
He also knew, deep down, how his history would work to give him that ending.
---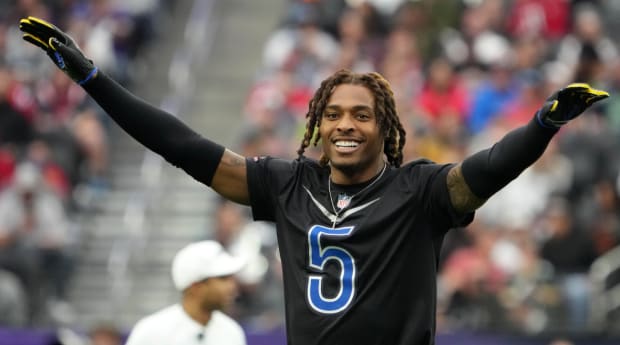 The first time Mulugheta raised the Dolphins to Ramsey, the corner responded that, yes, that was a place he'd go. Quickly, his feelings on going to Miami would grow stronger.
He, of course, wanted to go to a place where he could win, and where he'd fit football-wise. Having helped other DBs shine in Jacksonville (A.J. Bouye) and L.A. (Darious Williams), he also liked the idea of lifting up young safety Jevon Holland and forming a dominant corner duo with Xavien Howard. That he had friends in Miami, like Holland, Howard, Christian Wilkins and Raekwon Davis didn't hurt either, amid the flurry of DMs and texts he'd gotten from players across the league trying to recruit him to their teams.
But one reason some teams had trepidation about trading for him—he'll turn 29 in October, and it's rare that corners keep dominating well into their 30s—also gave him perspective not just to fixate on the on-field stuff. As such, having played in warm weather in college at Florida State, and in the pros in Jacksonville and Los Angeles, the right climate mattered. What was best for daughters certainly did too (like their dad, they like warm weather).
In taking all of it into account, boxes kept checking for Miami. His stance hardened.
"I'm not going anywhere but there," he told Mulugheta. "So make sure that's where I end up."
Both guys knew the advantage they had, too. Teams could remember how Ramsey elbowed his way out of Jacksonville and got to Los Angeles. They knew that'd be plenty to ensure no team would trade for Ramsey without knowing he was on board, and the agent could, if he needed to, tilt the scales in the Dolphins' favor in contract talks.
Meanwhile, Grier and Snead circled back the Tuesday after the combine concluded. Snead told Grier what he was looking for. Grier balked, saying the proposal was more than he was willing to give, and the Miami GM got off the phone thinking the deal was dead.
Two days later, Snead called back with a proposal, asking whether Miami would part with the 77th pick and reserve tight end Hunter Long. There were teams willing to go further than that, but the Rams wanted to do right by Ramsey, and they also knew what Ramsey himself did—that no one would trade for the corner without knowing Ramsey would sign off on the deal. Grier told Snead he'd get back to him and went to talk to Ross, Shore and McDaniel about it.
Ross asked how Ramsey's presence would affect guys already on the roster and in the locker room. Shore said the contract, as it stood, with $17 million this year, $18.5 million in 2024 and $19.5 million due in '25, with $7.5 million left that was fully guaranteed, was workable. McDaniel wanted the player. All signed off on the comp going back to the Rams.
Grier called Snead back, telling him he'd need permission, again, to talk to Mulugheta about any contract adjustments that he and Ramsey would be looking for.
When those discussions started, Mulugheta and Ramsey had already acknowledged that the corner market hadn't changed much since they did his extension with the Rams in September 2020, with the four-year cash flow still topping the NFL (though Denzel Ward's deal and Jaire Alexander's deal are comparable, and will pass Ramsey's, by a nose, in time).
So for the Dolphins, and the Dolphins only, Ramsey agreed that he wouldn't need much of a raise—and any other team that got involved would have to blow him away contractually to move him off the position that he'd go to only Miami. With that established, Mulugheta went to the Dolphins looking not for a raise, but for a little job security.
Shore, with Ross's blessing, agreed to give it to Ramsey, guaranteeing his $17 million base for this year and a $4 million roster bonus, plus his $14.5 million base next year—taking Ramsey's full guarantee from $7.5 million to $35.5 million over the next two years, with the logic being that the corner was going to be around for two years, minimum, anyway. And with that agreement, the deal moved into its final stages.
---
Grier called Snead back Sunday morning to button things up. McDaniel playfully gave his GM crap that he still hadn't had a first-round pick as Dolphins coach. (Grier's response was that Tyreek Hill and Bradley Chubb were his first-round picks, and now Ramsey would be another one.) This motivated Grier to make one last push for a giveback, asking Snead to throw in a late-round pick to finish the team, since Miami would have only four picks after trading away its third-rounder.
Snead responded that, because the Rams were trying to stockpile picks, he couldn't, and that he had other teams that were willing to give him picks without a pick giveback. Grier then got the final signoff, and it was set.
"We have a deal," Grier told Snead.
Grier confirmed with Mulugheta, who told the Miami GM that Ramsey was good with the terms. Grier asked Snead for time to call Long and wish him luck in Los Angeles—and tell him Grier hated to lose him, but that Snead and McVay really wanted him—and then they could finalize the contract. And Grier of course wanted to tell McDaniel, too.
"I'm on a floatie right now," McDaniel responded.
The twist, at that point, was that Grier and the Dolphins didn't know how badly Ramsey wanted to be there. When they talked before, it was only about the expectation that Ramsey be a leader if the trade went through. Ramsey slyly said he'd be excited to go there. On their next call, Ramsey spilled the beans.
"Oh," Grier said to him, laughing. "Well, that's good."
And Ramsey went through all the guys he knew on the Dolphins' defense and talked about watching Tua Tagovailoa, Jaylen Waddle, Tyreek Hill and Raheem Mostert on crossover tape. If anyone in Miami needed reassurance, that was a good piece of it.
The truth is, by then, the Dolphins were good, as were the Rams.
Los Angeles has between $55 million and $57 million in dead money on its books (that could grow in the unlikely event it finds a trade partner for Robinson), and a dozen picks in April's draft. The first one is 36th, which, if the Rams use it, would be their highest in seven years. And because they haven't, and don't plan to, put June 1 designations on any of this year's cuts, they'll come out of this year clean, with $70 million in cap space cleared for 2024 and a full complement of picks next year for the first time in forever.
They also got a trade return that wasn't close to what they gave up for 25-year-old Ramsey in 2019, but was similar to what the Lions got for Darius Slay in '20 (third- and fifth-round picks).
Miami, meanwhile, landed another star, and is giving Fangio perhaps the NFL's best corner tandem in his first year running the defense. Which gives the Dolphins a chance to keep pace with an AFC East that'll likely have both Josh Allen and Aaron Rodgers in it.
And as for Ramsey?
He got exactly what he was looking for. Just like he knew he could.