At tennis's most recent major tournament, the 2023 Australian Open, seven Chinese women were entered in the main draw, a record for the country. At the same event, 17-year-old Juncheng "Jerry" Shang won his first-round assignation, marking the first time a Chinese man had won a match at the Australian Open. A few weeks later at the Dallas Open, Wu Yibing took the title, becoming the first Chinese player to win an ATP tournament.
And yet as Chinese tennis rises, a mother of this current boom remains shrouded in mystery. It's been nearly 17 months now since Peng Shuai's uncertain status first became an international news story. Today, Where is Peng Shuai? remains both a hashtag and a troublingly unanswered question.
Once a popular internet presence with more than one million followers, Peng has disappeared from social media. Her family hasn't spoken publicly. Sightings of her have been limited to a few highly staged affairs. The Chinese government has, unsurprisingly, ignored requests for transparency.
How is Peng Shuai? Her former colleagues on the WTA Tour don't know for sure. Despite exhaustive efforts to make contact, the WTA Tour has not been able to reach her directly. "We have received multiple confirmations that Peng is currently safe and comfortable," says WTA chairman and CEO Steve Simon, "but we have not yet had the opportunity to meet with her personally."
Simon has earned wide praise for the tour's decision to effectively boycott China until Peng's safety can be verified and the Chinese government conducts a full and fair investigation into her allegations of sexual assault against a high-ranking party member. Today, though, the WTA faces a difficult reality: China appears no closer to budging while, according to a tour adviser with access to the books, the WTA is taking an "eight figure" revenue hit per year from suspending its business in China. For an outfit that reported around $110 million in revenue in their most recent public tax disclosure, in 2019, that's a significant loss. (A WTA spokesperson said that while the tour took an eight-figure loss in '20 and '21 as a result of the pandemic and moving the WTA Finals, "that is not the case for 2022.")
Simon has said he hopes to announce the tour's 2023 fall schedule—when the China events were customarily scheduled—by the end of March, which means any day now. The range of outcomes is considerable. Will Simon hold the line on China? Will the WTA capitulate and return? Will another authoritarian regime, clamoring for legitimacy through sports, host women's tennis? It all makes for some of the sport's most gripping intrigue, with consequences far deeper than whether Player X beats Player Y.
Where is Peng Shuai? We may soon find out what price the WTA is willing to pay to continue fighting for an answer.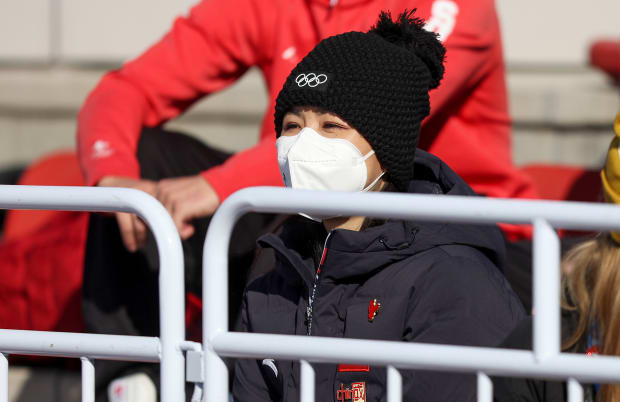 As the 2021 WTA season drew to a close, there were already deep concerns over the financial fortunes of women's tennis. Relative to other countries, including the U.S., China was responsible for a wildly disproportionate share of the WTA's revenues. Despite furnishing few top players, China was the site of more top-tier tournaments than any other country—hosting 10, including the WTA Finals, an annual year-end soiree held in Shenzhen that marked the greatest source of the tour's overall annual revenues, more than $20 million in various fees.
And the players did well, too. When the weeklong tournament was held in 2019, Ash Barty of Australia won the title and took home $4.42 million, then the biggest single purse in tennis history—men's or women's.
But COVID-19 caused the cancellation of the 2020 China swing, including the Shenzhen year-ender. In '21, in advance of the '22 Beijing Winter Games, China did not want to risk an outbreak, so again it canceled all international sporting events.
Then in the fall of 2021 came the real hinge point.
It was shortly after 10 local time on the night of Nov. 2 when Peng Shuai hit send on Weibo, the Chinese equivalent of Twitter. Peng was technically an active WTA player at the time, but her post had nothing to do with tennis. With anger and confusion and some literary flair, she recounted a long on-and-off sexual affair with Zhang Gaoli, a former vice premier and one of the highest-ranking figures in the Chinese Communist Party. Peng also alleged assault, saying that Zhang had "forced me into sex."
This was not a mere "social media post," as it has been sometimes minimized in the retelling. This was a cri de coeur, a personal essay nearly 1,600 words long that came with receipts, so to speak. Peng named names, provided dates, offered specifics (Zhang's wife, Peng said, was in the house at the time of the assault) and embroidered her writing with imagery describing the power imbalance. "Even if it is like throwing an egg against rock, or if I am like a moth drawn to the flame, inviting self-destruction," she wrote, "I will tell the truth about you."
Her account quickly rocketed around Weibo, garnering thousands of shares and comments. Then, within 30 minutes, Chinese censors scrubbed her post from the internet. All traces and references and subreferences to her claim were scrubbed as well. And, in a glimpse into how authoritarianism operates, China blocked Weibo users from using the search terms "Peng Shuai," "sexual assault," "vice premier" and eventually even "tennis." And Peng did not post again.
If a language barrier had kept Peng from the social mainstream in the tennis locker room, she was a well-liked and well-regarded veteran on tour. She was also a top-shelf player, having won the doubles title at Wimbledon, been ranked No. 1 in doubles and once reached the U.S. Open semifinals in singles.
Her anguished post and then her sudden disappearance drew outrage from the world of women's tennis. Then, on Nov. 13, Alizé Cornet, a French veteran, catalyzed an international cause célebrè when she tweeted: "Let's not remain silent #WhereIsPengShuai." By the end of the weekend, Peng's whereabouts became a global story.
The WTA responded with forcefulness. Multiple sources tell Sports Illustrated that the strategy was guided largely by sports consultant Ari Fleischer—a former George W. Bush White House spokesman and a staunch and vocal skeptic of China. This was when the WTA laid down its line: There would be no women's tennis events held in China unless the CCP conducted a full and fair investigation into Peng's allegations. (Fleischer did not respond to comment requests for this story.)
As Simon, the CEO, put it at the time: "Until such time that we can get comfort she is truly free from any type of coercion or intimidation or censorship … if we walk away from this, we are basically telling the world that basically not addressing sexual assault with the respect and seriousness it requires is O.K."
Predictably, China did not agree to the WTA's condition. But with the Winter Olympics a few months away, China did work diligently to scuttle any potential bad PR and show not only Peng's "proof of life," but that this prominent athlete was doing just fine. In a series of clearly stage-crafted video posts, Peng emerged after a three-week disappearance, flanked by CCP officials, smiled and declared she was doing well. "I am not missing nor am I unsafe," she purportedly said in an email to Simon then published by a Chinese state media outlet. "I have just been resting at home and everything is fine."
China then went to great lengths to explain that this was no scandal; simply a misunderstanding (by a confused, lovestruck woman) that had been misconstrued by the West. Peng not only retracted her allegations, but—despite having incontrovertibly written in detail about sexual coercion—denied in her purported email that she had ever made any assault accusations. She then scolded the WTA for misreading the situation and using its website to post stories about her without her consent.
Pressed for a response to the concerns about Peng and her safety, the IOC said nothing of substance. By the time the Games began in February 2022, IOC president Thomas Bach hosted a video call with a smiling Peng—teddy bears arrayed behind her. During the Games, Bach even sat next to Peng at an event, clearly a staged photo op, a bit of complicity meant to assuage concerns.
"That to me, was the most surprising part," says Yaqiu Wang, a former Chinese national, now a New York–based senior researcher specializing in China for Human Rights Watch. She expected the IOC to downplay the situation and douse concerns over Peng Shuai. "I did not expect [the IOC] to become part of the story, to play an active role in the propaganda. The degree to [which the] IOC took part in the Chinese government scheme to make the story that she was free and happy, yes, that was surprising."
The Winter Games went off without much of a hitch. And days after the closing ceremony Russia invaded Ukraine, and geopolitical outrage pivoted away from China. The year ended with Qatar, despite its abysmal human rights record, hosting the 2022 World Cup, and talk of sportswashing—using games and athletes and events to launder a country's image—moved away from China to the Middle East. And #WhereIsPengShuai, though never satisfactorily answered, stopped trending.
The WTA Tour received plenty of praise for its principled stance, which stood in especially stark contrast to the IOC's cravenness. There were nods from world leaders. Simon, a soft-spoken Californian, never accused of being political or ideological or grandstanding, became an unlikely regular on global affairs shows. In the U.S., the political left and the political right found rare overlap in saluting the WTA for doing what so many businesses—from the NBA to Apple—had not done or would not do: confront China and its authoritarianism.
But none of this flowery praise and bubbling goodwill was reflected in the WTA's balance sheets. As one recent former WTA board member puts it, the absence of the revenue from China "blasted a hole" in the tour's finances.
In the fall of 2021, the management and marketing group Octagon helped the WTA hastily relocate the tour Finals from Shenzhen to Guadalajara, Mexico, salvaging significant financial damage. In November, the WTA staged its '22 year-end championship in Fort Worth, Texas. It brought in some revenue, but a fraction of the haul China had provided. One former board member explains that Tour sponsors such as Porsche "did not pay full boat" once it became clear that their signage and activations wouldn't be displayed in China, the great emerging market of 1.6 billion potential consumers.
The players felt the shortfall, too. While Barty had won more than $4.4 million in 2019, the '22 winner, Caroline Garcia of France, earned roughly $1.5 million, a two-thirds drop.
When Simon made his statement in 2021 to suspend the China swing, he issued a dire prediction that it "would cost us millions." Still, he may have underestimated the cost of integrity.
Over the past year, a few new sponsors have emerged to fill the China void. In the case of Hologic, a Massachusetts-based medical technology company, one could even infer that the WTA's China stance was part of the appeal. "Hologic and the WTA come together with a collective purpose as pioneering advocates for women," Hologic chairman, president and CEO Steve MacMillan said last March. "We are proud to stand with the WTA in its commitment to the highest integrity and values."
But the gap between public opinion and the market proved considerable. The WTA hasn't come close to offsetting the China shortfall. A nonprofit, it has not yet filed its 2022 financials. But in 2019, it reported revenues of $109,733,686 and expenses of $110,783,016. For an organization already operating at a loss, an additional eight figures in the red would be dire.
In March 2023, struggling financially, the WTA made what may have been the most significant business decision in its 50-year history. After months of rumors, it confirmed that it had reached an agreement with CVC, a Luxembourg-based private equity firm best known for its investment in Formula One. For $150 million, CVC effectively acquired 20% of the WTA Tour.
The WTA is adamant that this deal was correlation and not causation, that the Tour was interested in a capital partner long before the rupture with China. Still, a healthier financial entity would have been able to raise capital without parting with one-fifth of its equity.
The deal now provokes this question: Does a partnership with a venture capital firm and the $150 million investment give the WTA financial cushion to avoid returning to China? Or does a partnership with a venture capital firm—that made the deal not as philanthropy, but seeking a commercial return—put pressure on the WTA to prioritize profit over principle and return to China, hat in hand? When this question was posed directly to Simon, he responded cryptically via email, "We are partners together and will make the best decision and the right decision for the Tour and our members."
It also didn't help that since the Peng affair, arguably the WTA's three most prominent (and marketable) players—Serena Williams, Barty, and Naomi Osaka—left the tour, the first two on account of retirement, the third owing to pregnancy. Another challenge: though the ATP Tour has issued public support for the WTA, it is still doing business in China. Given the opportunity to join its "sister tour" in solidarity and suspend operations, the ATP chose business as usual. Same for virtually every other international sport. Says one WTA board member: "We're feeling a little alone on an island, even within tennis."
Publicly, Simon has been careful not to formalize a China boycott or close the door on a return. "We continue to have discussions in the region and as we have consistently reflected, we do hope to return to operating our events in the region but at this time no decision has been made," he told SI in his email. But, meanwhile, he has been scrambling, with mild success, to relocate the China tournaments to other markets throughout the world, anywhere from San Diego to Monastir, Tunisia.
Saudi Arabia has made inquiries about hosting an event, possibly the year-end championship previously held in Shenzhen. Simon recently made a trip to Riyadh, according to multiple sources. Fleischer, the former Bush official advising him, has been closely involved with the Saudis' creation of LIV Golf. And a current WTA board member, Peter Michael Reichel, already promotes the Diriyah Tennis Cup, a well-funded December exhibition in the Kingdom.
Simon has been prepped on the problematic optics that would come with pulling out of China citing ethics and the country's treatment of women … only to land in Saudi Arabia, where women only recently were given the right to drive and travel outside the country without a man's permission. (One likely defense: Unlike China, Saudi Arabia touts its push to liberalize and modernize its culture, and the WTA can be part of this progress. Another: Unlike China, no abuses by the state were alleged to have been perpetrated against a specific WTA player. Though, of course, there are sure to be counters about the Kingdom's 2018 murder of Washington Post columnist Jamal Khashoggi, as well as its role in Russia's war against Ukraine.)
Sources tell SI that, as Simon prepares to announce the WTA's fall slate of events, he is hopeful that the Tour can continue to hold its position on China. And the players may be his best allies. Says Pam Shriver, a former player, now a coach and broadcaster still deeply involved with the affairs of the WTA Tour, "My sense is that so many players have lost confidence in feeling safe in China. COVID, Peng Shuai, some arena safety issues. They don't want to go."
But multiple sources tell SI that Simon is facing the stark reality that you mess with China at your own economic peril, and that he is under increased pressure—from some board members and some player agents, in particular—to soften, or even reverse, his stance. The financial costs are considerable. Maybe insurmountably so. As Shriver predicts, "Holding the high ground is not going to last forever."
Often lost in the macro discussion: This story revolves around an athlete, now 37, who once traveled the world on the tennis circuit and today, has likely not left China since her post … who once was known within China for her uncommon candor and hasn't spoken publicly without minders from the CCP present … who was once active on social media and now has no profile.
Wang, the Human Rights Watch researcher, stresses this is in no way unique. Forced (and enforced) disappearances happen frequently to others who get in the crosshairs of the CCP. In 2020, Jack Ma, the billionaire CEO of Alibaba, China's equivalent of Amazon, criticized Chinese financial regulations and, by extension, the government. He vanished from public view for roughly three months. Upon resurfacing, he apologized and said he was "re-educated" about his perspective.
Likewise, actress Fan Bingbing was linked to charges of tax evasion and disappeared from both social media and the public area. When she reemerged, she, too, was filled with contrition: "Without the [Communist] party and the state's good policies, without the love from the people, there would be no Fan Bingbing," she wrote.
Wang says that, as someone who covers human rights in China, she has seen countless examples of protesters and activists who have been "disappeared" by the Chinese government. The difference in Peng's case: The international attention she has generated will provide some protection not afforded to lesser-known government critics. "She is a celebrity," says Wang. "But what's happening to her is normal in China."
Stressing that it is conjecture, both tennis officials and Human Rights Watch officials believe Peng is still in China, physically safe but unlikely ever to leave. She is likely fearful of what could happen to her family if she attempts to return to the countries in which she played. Those around her likely feel pressure—"self-censorship," Wang calls it—not to speak publicly, much less to the foreign media.
In one of her only public sightings since her Weibo post, during the Beijing Olympics, Peng sat for an interview with the French publication L'Équipe. The interview took place in a hotel room, and a photo reflected off a mirror revealed the presence of party officials. Peng spoke haltingly, repeating her claims that no sexual assault or harassment had occurred. She also noted that she was retired from playing. Marc Ventouillac, the French journalist conducting the interview, left unnerved, unconvinced Peng was truly free.
Asked for his takeaway from this entire situation, Simon says: "We stand behind Peng and the courage it took for her to come forward and we do hope for a resolution to be reached. … Women's voices must be listened to and supported when they speak up and speak out."
Some players are less guardedly diplomatic. Almost a year and a half after she called attention to her colleague's fate, France's Alizé Cornet says her concerns are undiminished. "Obviously Peng Shuai is still stuck in China," she says. "I don't think she is free of her actions. When I am thinking about her, I don't feel comfortable. Something is wrong. But I also feel powerless."