To those who know Tom Brady best, there was a pretty real tell on which way he was leaning over the past couple of weeks. And to set this up, his dad, Tom Sr., told me this story from last June.
The whole extended family was in the Hamptons, celebrating a graduation that happened to come in a dead spot in the NFL calendar, and Tom Jr. was there to take part in the festivities. One morning, during the trip, Tom Sr. and his wife, Galynn, got up and, at about 7:30 a.m., with it pouring rain outside, they grabbed their coats and their umbrellas and went out to get coffee.
"And he was outside with his shoulder pads on and his helmet on, and he was throwing the ball and running around," Tom Sr. says. "I said, What in the world are you doing? And he said, Sometimes, we have to play in the rain. I'm thinking, It's the middle of frickin' June. Why don't you come with us and have a cup of coffee?"
Brady was less than two months shy of his 45th birthday, with seven Super Bowl rings to his name, and all the significant all-time passing records his, and there he was, standing in the rain, in the middle of June, in Vacationland, grinding it out.
"I just think that he found a passion in his life that very few people will ever find in their lives," Tom Sr. says. "No matter what they do."
So that's why, in the weeks after the Buccaneers were eliminated from the NFC playoffs, Brady's dad took a pretty noticeable hint—Tom Jr. didn't dive right back into working out for the 2023 season the day after the season ended, the way he had every year before. It didn't happen the next day, either, or the day after that and then, last Tuesday, before Brady let the world know, he confirmed his dad's suspicions.
He was finally, once and for all, done with football at 45. And his dad has all the evidence that he needs now that this is actually—finally—it.
"There's no training or no plans on training anymore," Tom Sr. says. "So I think, in his own mind, he's got a full commitment to taking care of his kids this year."
I know less than the guy's dad, of course, but I'm pretty convinced this is it, too—while leaving a sliver of room for error in that I think Brady's football addiction makes it tough to predict how the reality in front of him, one without football that I think he's feared to some degree, will play out.
If he actually is done? Well, then he had one of the greatest rides and authored one of the greatest stories in the global history of professional sports. And I figured there'd be no one better to ask about that ride than the guy who rode shotgun for all these years. Tom Sr., of course, has a lot of memories.
• The first one he raised to me was one that seems quaint and simple now—the call he got from his son while he and Galynn were at a convention in London to inform the parents that he made the team. It was no sure thing going into training camp the summer of 2000, with the Patriots carrying a deep quarterback room and a ton of needs elsewhere, and Brady being a sixth-round pick, No. 199. Tom Sr. calls the conversation a "spectacular memory" for the family.
"The odds weren't particularly in his favor, and they had three pretty well-established quarterbacks with John Friesz and Michael Bishop, and, obviously the leader of the band was Drew [Bledsoe]," he says. "That was the very first memory; that was a joyous moment. And then seeing him get into his first game, it was on Thanksgiving in Detroit [in 2000], and then going on and getting the chance to play the next year was thrilling."
And, Tom Sr. continued, "winning the Super Bowl that year was beyond any expectations or hopes or dreams that any father could ever have."
• From there, of course, Brady quickly established himself as one of the sport's preeminent names. And little did Tom Sr. know, all the way back then, that on the other end of all of it, the way it ended would make him just as proud.
It's no secret that 2022 was an incredibly difficult year for Brady personally and professionally. He was going through a divorce. His kids, one in New York and two in Miami, were getting older. On the field, his team was older, had gone through a coaching change and needed more of Brady at a time when he probably had less to give than over his first two years in Tampa Bay. But through everything, Brady kept his head held high.
"When it's not the best of circumstances, when you're the guy that has to represent the team and the organization and you're going through it on the public stage, I could not have admired the way he has handled this year more," Tom Sr. says. "I know that I could never have performed to that level, and I don't know how he did. I mean, he still had a pretty darn good year, although the team didn't have the [same] success."
In the end, Tom Sr. says that's why he and Galynn were waiting there for their son in the tunnel at the end of the loss to Dallas, not because they knew it'd be their last chance to see him. "It's been a rough, rough six months," he says. "And we were simply there to give him support."
• And just being there, Tom Sr. says, really is what he'll miss most. I asked him to ballpark how many games he went to over the last 23 years, and he said he thought the number was in the neighborhood of 220. More than just that, he added, between all those trips, leaving Friday and coming back Monday, and all the games on TV, Tom Jr. had given his family something to rally around in good times (Super Bowl wins) and bad (when Galynn fell ill in 2016).
"Our emotions have always been right on the edge of the center snap every game," he says. "There's been so much fun, so many highs and some lows. I mean, we have been fully human and fully alive through this process, where we've experienced the greatest joys and the significant disappointments. All in all, the overriding effect is great joy, and that's what we're gonna miss. … We're gonna have such a hole in our lives."
That said, Tom Sr. conceded there is good and bad to having to fill that hole.
On one hand, Tom Jr.'s games have served as a touchstone for him, his wife, his son, three daughters and their families to come together every fall and winter. "Absolutely," he says, "in many, many respects, it's been wonderful." On the other hand, because of his son's football career, the Bradys haven't had a family Christmas in a quarter century. Obviously, now, some calendars have opened up.
• Then there's how Tom Sr. will remember his son's career. For the rest of us, I think it's pretty simple—as the greatest of all time. For the family, though, it goes back to how Tom Jr. himself would want others to remember him.
"I think he would like to be known as a team guy," Tom Sr. says. "No better, no worse than anybody else. He was a guy that loved his teammates, loved his opponents—he had a great respect for them. And I don't think that he's ever gotten too big a hat to recognize how special these other guys have been in his life, as well as the organizations. I mean, the Patriots were so great for so many years, and the Buccaneers have been wonderful these last three years. I think there's just a great sense of gratitude on his part.
"And I think that it's reciprocated by the comments that I've read and heard from these other players these last few days."
---
So why was Brady even still playing after all he'd accomplished? Tom Sr. confirmed to me something that I'd long surmised. Most football players that leave the game on their own terms, and there aren't many that get to do that, don't fall out of love with Sunday. They fall out of love with Monday to Saturday, offseason training, training camp and everything else that goes into playing pro football.
The difference with Brady isn't that he could tolerate that part of it, but it was that he loved it.
"He loved the competition. He loved the sport. He loved what it took," Tom Sr. says. "He loved the camaraderie of his team. And so being fully dedicated to it was not hard. It became part of his life journey and just who he really wanted to become, the best that he could be. That took his full dedication, and that dedication never became tedious."
Which is why, in some ways, it took everything else, outside of football, to finally convince him to call it quits.
And on the week he did, I had one last thing to ask his dad. Before Super Bowl LI, when Brady would author the greatest comeback in the history of the Big Game, Brady was asked by a kid reporter who his hero was. He got choked up and said, "My dad." So I wondered how Tom Sr. had processed that moment, and about the pride he felt looking at his kid.
"I think he is absolutely the classiest act that I've ever met, and I mean that sincerely," Tom Sr. says, his voice cracking just a bit. "I could not be more proud of him. I've been blessed because I got three spectacular daughters. But I got a son that nobody could duplicate, because as he has said, I'm his hero. Believe me—he's my hero, too."
And now, he'll even get to have Christmas with him.
---
The Brady retirement leaves the Buccaneers with a singular and pretty significant decision to make. Quite simply, it's whether to keep moving forward with the core of players they assembled to give Brady a shot at rings, plural, over the past three years.
The easiest way to explain the Bucs' dilemma comes with two simple bullet points.
• They have seven players, including Brady, with dead-cap charges over $15 million, and five over $20 million—meaning if they were cut, there'd be a heavy charge for each of those guys to not be on the roster.
• Three of the seven are 30 or older, a fourth is 29 and a fifth is 28.
Now, the Buccaneers were in position to leverage themselves this way largely because lead negotiator Mike Greenberg had, for years, done balanced deals that never mortgaged the cap—giving the team clean sheets to work off for the Brady years. The strategy to then go all in, after those years of fiscal responsibility was, of course, a roaring success, with three playoff appearances and a championship to show for it.
But that doesn't change the fact that at some point the piper will have to be paid for it.
Should that time be now? Or should the Bucs go get a Derek Carr or Jimmy Garoppolo, and try to win one more with Brady's band?
These are questions only Tampa can answer. Recent history has shown us, with examples such as the 2018 Bills, or last year's Falcons or Bears, that teams can spring out of cap jail with just a single season of eating it from a dead-cap perspective. And if the Bucs' determination is that this group has another run in it, then, sure, it makes sense to kick the can down the road one more time.
But by the looks of how the season ended, it sure seems like there'll be at least some merit to going the other way, and offloading some contracts this offseason to reset for 2024, at which point they'd be able to build around their younger stars (Chris Godwin, Tristan Wirfs, Carlton Davis, Devin White, Antoine Winfield Jr.) that won with Brady.
---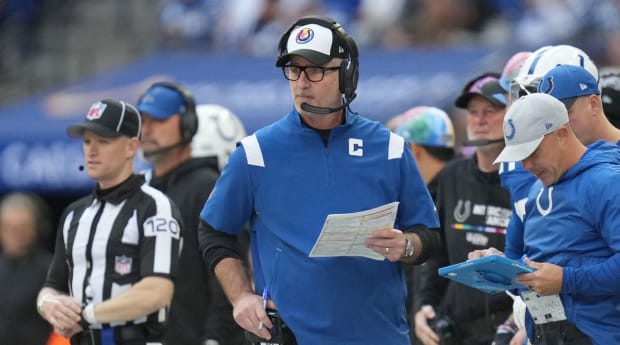 If you want to know why the Panthers hired Frank Reich, you can actually go back to the fourth-and-3 that the Eagles converted early in the NFC title game. On the play, from the Niners' 35, you'll remember Philly held nothing back—Eagles quarterback Jalen Hurts ended up escaping to his left, and launching the ball against his body to an open DeVonta Smith inside the 10. The ball was in range, Smith's effort was spectacular and the chains moved.
Whether Smith actually caught it is immaterial to this discussion.
What matters, in this case, is that Philly took that chance, something that illustrated the advantage that the Panthers thought hiring an offensive coach would give them. Where a defensive coach, in that spot, might throw at the sticks, or run a draw, or punt, Carolina saw an offensive coach more willing to take the sort of chance Nick Sirianni and Shane Steichen did, for a variety of reasons, and make Philly tougher to defend and more likely to convert.
Reich, by the way, is Sirianni's mentor. And Reich actually wasn't even part of the Panthers' initial group of candidates. But when it came down to it, the Carolina brass leaned on what they learned from 12 games with Steve Wilks as interim coach, and tacked on that feeling they had all along—that they wanted a guy with an offensive background, and Reich is where they landed.
Here's a snapshot look at how they got there …
• Through the fall, owner David Tepper's research, as we've written in this space, focused largely on innovative offensive minds in general and young ones in particular. With 12 weeks of runway, the Panthers' first list was short, and that was by design, with five names on there—former Lions and formerColts coach Jim Caldwell, Lions offensive coordinator Ben Johnson, Giants OC Mike Kafka, Eagles OC Shane Steichen and the incumbent Wilks.
• Wilks had at least made the Panthers think about pivoting, and the biggest reason why was because of how he'd been able to capture the locker room in an adverse situation and turn the ship by creating a very real identity. The biggest question coming out of that related to the sort of staff he'd be able to assemble. My understanding is Eagles QBs coach Brian Johnson was part of Wilks's preferred group as offensive coordinator.
• So Reich wasn't on that first list. But there was a television report late in the season that he'd be considered for the Panthers job, which caused Carolina to double back on the work it had done on the former Colts coach, whom the search committee liked. GM Scott Fitterer pulled on his connections to Indy's front office, including ties to GM Chris Ballard and assistant GM Ed Dodds (his former Seattle coworker), and those guys told him, "No, you gotta talk to him. He's a legit guy." At that point, the Panthers' thinking basically was, Why wouldn't we talk to him?
• Because of the rules regarding coaches in the playoffs, Reich wound up being the third coach the Panthers talked to. And the command, presence and maturity both he and Caldwell showed in the process pushed the Panthers back to what they'd learned with Wilks as their interim coach—and it made some of the younger coaches seem green.
• Through the first round of interviews, which, again, was intentionally small, Tepper—still relatively new as an owner, and having run a truncated process that became a pursuit of then Baylor coach Matt Rhule on his first swing—noticed something. He was learning a lot about his own organization, and other organizations, through a grueling first round. So he decided to open it up to some new names and brought in Sean Payton with a second group, including Broncos defensive coordinator Ejiro Evero, Bills OC Ken Dorsey and Cowboys OC Kellen Moore.
• Moore made an impression at the wire, in part because he had to wait for Dallas's season to end to interview. The Panthers offered to do it with him over Zoom after the Niners eliminated the Cowboys on Jan. 22, but Moore said he really wanted to come in. So that Tuesday, Carolina squeezed him in for an interview from 9 to 11 a.m., so Tepper and his wife would be done in time to prepare for the memorial service for Charlotte FC defender Anton Walkes (who'd died suddenly days earlier) that afternoon.
• Moore really impressed the Panthers. They had some of the same concerns with him they'd had with the other young offensive coaches, but they'd seen and heard enough to want to bring him back. So they called Moore, who was in a car on the way to the airport, and asked him to come back Jan. 25 to continue the conversation.
• At that point, Wilks had already had his second interview. Reich came in for his after the continuation of the Moore interview on the afternoon of Jan. 25. Where the first round included Tepper and wife, Nicole; Fitterer, assistant GM Dan Morgan; and lead negotiator Samir Suleiman, the second round looped in team president Kristi Coleman. And it turns out Coleman's presence in the interview helped separate Reich from the pack—his big-picture vision for the football operation (everything from his coaching staff to player engagement to how the equipment room would work) impressed her, as it had the rest.
• Tepper, as he had after the first round of interviews, asked everyone to rank their top five candidates, abstaining from the vote (so as not to influence anything). Reich was first on everyone's list. From Nos. 2 to 4, the lists varied, making Reich a pretty clear-cut choice—and leading to Reich's hire, made official Jan. 26.
So the Panthers have a new coach, Reich has a second shot, and, it seems, Tepper feels like his organization, and everyone in it, is better for having gone through the process.
---
Ran Carthon was, understandably, pretty excited when he found out he'd be the Titans' next GM. It's just that he couldn't act like it, because the offer didn't come in the sort of way that he, or really any scout or coach, would've drawn it up. But his old boss, Rams GM Les Snead, had prepared him for that, telling him his own story (Carthon wouldn't divulge details), to warn him that the moment might not be so magical.
Carthon's decidedly was not.
"You never have like your 'draft day' moment, and I get that, especially being a guy like myself who didn't get drafted," he told me Sunday morning. "You have this image of, I'll interview, they'll offer me the job, and when they do, I'll be home with my family and we're going to have this joyous moment. But I was in the airport terminal."
Meaning he'll remember the most significant moment of his professional life as one in which he was waiting to board for San Jose.
He followed that by calling his wife, then his dad, then his agent, after waiting for the Titans to call the other candidates to tell them they didn't get the job and, truth be told, that was plenty for him. Hearing their voices, as you'd imagine, did it for Carthon (he had to wait for his dad to call him back, and we'll get to that in a second), who has climbed the scouting ladder over a 15-year career in personnel that followed his four years as an NFL player.
That is part of why he's so jacked to get to work with Titans owner Amy Adams Strunk, Mike Vrabel and the group in Tennessee. But that's only part of it.
The other piece? He genuinely feels like he got the right GM job. Which is one of a few things he and I covered over the weekend to try to introduce all of you to the new boss in Nashville. Let's dive into it …
Carthon and Vrabel met for the first time when Carthon was on his second interview, but to Carthon, it never felt like a first meeting. And he'd suspected it might play out that way all along, given the way his résumé, and path, intersects with Vrabel's.
Both are former players. Both came up under guys who came up under Bill Parcells (Bill Belichick for Vrabel, and Ran's dad, Mo, for the new GM). Both had a background in the Patriots' scouting system (Jon Robinson used it in Tennessee the past four years, Carthon saw it in play under Thomas Dimitroff in Atlanta and also, to a degree, in San Francisco). Both believe football is won in the trenches, and with physicality.
"Our core foundation in how we see the game comes from the same place," Carthon says. "We see it very similar, and, it was, to me, pretty evident early on that we saw it the same."
It's for sure evident in how the Titans have played under Vrabel, as perhaps the league's most rugged team, centered on a jackhammer in Derrick Henry. And it's just as obviously there when you consider how Mo Carthon played for Parcells's two Super Bowl teams for the Giants, and coached for him with the Patriots, Jets and Cowboys; and how Ran himself briefly played for Parcells, too, in Dallas, as part of a running back room that had Eddie George and Richie Anderson.
But that isn't the only part of their backgrounds that mesh—it's also in how both see the head coach's role in personnel. Playing for Belichick, Vrabel saw a coach that was hyperspecific in what he wanted out of each position and role on his team, and eventually grew to be that way himself. And Carthon was around a guy who was just like that in San Francisco.
"Mike's super knowledgeable of what it takes to build a team," Carthon says. "You're going to have kind of like what we had in San Francisco where Kyle [Shanahan] knows exactly what it takes to fit in his scheme, which I've always felt makes it easier for scouts to go scout, because you know exactly what you're going to look for. Mike has that same level of knowledge of what he wants and what he's looking for."
To illustrate that, Carthon raised how picky Shanahan is with receivers, and how focused he is with what he wants in them since he played the position.
"So this is what I call clear marching orders," Carthon says. "You knew the X was the fast, explosive guy that could take the top off the defense, that could stretch the field. You know the Z was the stronger guy that was going to be the more over-the-middle catch, balls-in-tight-spaces guy who can run after the catch. You knew the F was going to be the shifty guy that could win one-on-one, that can extend drives. Our scouts knew all that going in."
So Job No. 1, for Carthon, has been working with Vrabel to learn his specifics, the way he knew Shanahan's after six years with the Niners.
And there is one other benefit to the carryover—Carthon won't have to change the Titans' language in scouting much at all. Thanks to Dimitroff's using the Patriots' vernacular in Atlanta, Snead's using a version of it in Los Angeles and former Patriots scout Adam Peters's bringing it to San Francisco, really, it's easy for Carthon to make things easier on the scouts who'll now report to him through establishing the level of continuity right off the bat.
"I can say I've had a bit of a cheat code because J-Rob's system is very similar to the one that I was introduced to in scouting in Atlanta. And, not only that, it's very similar to what we did in San Francisco," Carthon says. "So it makes it easier to come in and learn the current language. There'll be a couple of small tweaks here and there, but the basis of the scale is the same. That's made it so these last couple of weeks have been spent with learning our team from a more intimate perspective and getting to know the rest of the scouting staff."
Which brings us back to Carthon's baseline for all this—his dad.
---
So Carthon did try to get his dad on the phone right after he talked to his wife. And tried. And tried. "I called like six times," he says, laughing. By the time his dad called him back, the news was out.
"The crazy part was, he called me back and he was like, Hey, what's going on?" he says. "So I was like, Hey, man, they offered me the job. And he was like, What did you say? And I was like, What do you mean, 'What did I say?' I accepted it. And he was like, O.K., well, why are you so calm right now? And I'm like, I'm in the middle of an airport terminal. I can't go crazy or I'm not going to make my flight back. And then he paused for a second and he was like, Ohhhh."
Again, not like the two of them drew it up—but that didn't take away the significance of the moment for either guy, and especially the son who watched his dad serve as offensive coordinator for three different teams, interview for head coaching jobs and never break through. In a lot of ways, you can tell Ran felt like his victory was his dad's victory, too.
"I take a lot of pride in it," he says. "Around the time that the Rooney Rule went into place, my dad was one of the original guys that was on that interview circuit. So I lived through the countless opportunities that he had, whether he felt like he had a real shot at it or not."
Carthon then added that it was his dad who steered him toward scouting, because deep down, that's what his dad wanted to be before he got into coaching, something that was so apparent to the son in the five years (2008-12) they crossed over working in the league, when they'd get to be together for Senior Bowl practices or combine workouts.
And given that? No one really needed any sort of fairy tale moment to make it mean more to Carthon, or to his dad.
---
The Sean Payton-Russell Wilson marriage is fascinating. Over the past six months, I've heard there really are three things that the ex-Saints coach wanted in his next football home.
One was good geography. He really liked living in Manhattan Beach over the season, and so Denver checked that box being in the West (with some family considerations there, too).
Two was strong ownership and resources, and I can't imagine a scenario where he won't get everything he needs—especially since he already got the contract he desired.
Third is the quarterback and, now, this is where his future is inextricably tied to Wilson's.
Wilson got $124 million fully guaranteed at signing, which carries the team, and quarterback, through the 2024 season. On top of that, the $37 million he's due in 2025 vests in 13 months. So either Wilson plays a single year for Payton, and then is cut with $39 million cash due for '24—leaving Denver with a cap nightmare of $124 million spent for two years of Wilson—or Wilson's there for Payton's first three years.
In other words, for Payton to make it work, he'll almost certainly have to make his system, and his program, work for Wilson.
Now, the good news—my understanding has always been that Payton liked Wilson's game going back to when Wilson came out of Wisconsin 11 years ago. Payton's also made his system work at an incredibly high level for a quarterback who had similar challenges to the one Wilson faces (namely, the distance the top of his head is from the ground).
From there, my personal opinion is that Payton's challenge will be getting Wilson to understand what he is and what he isn't. For years in Seattle, there was friction between the quarterback and his coaches on how he should be deployed. Pete Carroll and his offensive staffs always thought that was by incorporating Wilson into the run game, moving the pocket in the passing game, and leaning on play-action to generate vision and get Wilson playing fast.
Wilson, for his part, wanted to be used in a more traditional Brady-Manning type of way, thinking that, to steal a line, by letting Russ cook, the Seahawks would unlock another piece of his game. And in having the leverage he got in directing his trade destination, he was able to have things his way his first year in Denver, with a first-year head coach.
We know now what became of that.
And that's really why I said, when the Broncos fired Nathaniel Hackett, that they needed someone who could push back on Wilson, and challenge him, be it a Jim Harbaugh or a Dan Quinn or a DeMeco Ryans. Now, they've got that guy in Payton.
I think if Wilson listens to him, and I have no reason to think he won't, this could work.
---
The Colts' process has been an interesting one, and honestly I can't wait to hear more detail on what it was like when it's over. The first round of interviews, which were done over Zoom, were run by Ballard, with vice chair Carlie Irsay-Gordon (Jim's daughter), director of team development Brian Decker and PR and HR staffers involved. The second round, done in person, has brought in more people such as Dodds into the loop, and incorporated the owner in a big way.
That, I think, is part of why it's worked this way—the virtual interviews almost served as a preliminary round, with the real interviews happening with a whittled down group of seven.
As for how those went? Well, they were long (12 hours or so) and involved (Irsay got one-on-one time with each candidate). They were also creative, with one person informed of the process calling it 30% football, 30% leadership, 40% other stuff. And so it seems like if the Colts are going to replace, rather than promote, Jeff Saturday, they'll have done more than enough homework in getting themselves there.
The other thing that I've heard that's interesting? Every candidate coming out of there, or at least the second-rounders, sincerely seem to think they absolutely crushed it. I've heard that Rams DC Raheem Morris, Bengals OC Brian Callahan and Lions DC Aaron Glenn did well, with Eagles OC Shane Steichen having gotten the last crack at it over the weekend.
There is background here, too, that's worth noting. Callahan is close with Peyton Manning (he was with Manning in Denver), and Manning's word still carries a lot of weight with the Irsays; and Callahan's dad, Bill, was on the coaching staff at Wisconsin when Ballard was a receiver there in the early '90s. Morris's ties to Indy are logical ones, too—DC Gus Bradley (whom Indy's blocked from leaving) was with Morris in Tampa from 2006-08; and Ballard's NFL upbringing in Chicago was with ex-Bucs people (Jerry Angelo, Lovie Smith).
So we'll see where it goes. And, again, I'm excited to dig into how it will have all played out in the aftermath.
---
The Cardinals' slower pace has people wondering. Arizona's identified three finalists—Kafka, Steelers senior defensive assistant Brian Flores, and Bengals defensive coordinator Lou Anarumo—with at least two other candidates (Vance Joseph, Callahan) now officially out. They'll interview Tuesday, Wednesday and Friday, respectively, over Zoom, and then, presumably, owner Michael Bidwill and new GM Monti Ossenfort will huddle and make their pick.
Why are they dragging it out if all this is being done virtually?
Well, one theory I've heard is that they could be waiting for the Eagles coordinators to get through the Super Bowl. The Cardinals missed their window for first interviews with Steichen and Jonathan Gannon (Philly's DC) during their GM search, and that meant they weren't allowed to interview either guy during the window for second interviews over the Super Bowl bye week.
The Cardinals haven't yet put in requests for them, but there are ties here. My understanding is Bidwill and his group put a lot of work in on Steichen by calling around to research him early in the process. And Ossenfort's actually built a relationship with Gannon, and those two have a close mutual friend in Texans GM Nick Caserio.
Now, the Cards could certainly just pick a guy this week and be done with it. But if this drags into next weekend, that could be one reason why.
---
The Raiders-Derek Carr divorce is a little sloppy. At this point, it's pretty clear that Carr's camp would like the freedom to seek a trade, and the Raiders don't see what their benefit would be in doing that—since it'd just give Carr knowledge of what'll be out there for him in mid-February if he just enacts his no-trade clause and forces the Raiders to cut him, thus making it harder for Vegas to trade him since Carr would have power to rig the process.
I can see why Carr wants the freedom, and I can also see why Vegas won't give it to him.
And all of it leads into what'll be a weird nine days between now and Feb. 15—when Carr's $32.9 million for this year and $7.5 million of his 2024 money vests as fully guaranteed.
So what do we know? I can say that Raiders GM Dave Zielger met with other teams in Mobile at the Senior Bowl to discuss a Carr trade. I also think the potential suitors out there are who'd you suspect—a couple of NFC South teams, the Jets, maybe the Commanders. But to this point, even those who like him as a player are lukewarm about flipping a pick and negotiating off the terms of the current contract.
And while I'd say there's a chance of a trade happening, it's not a great one, not with Carr controlling his ability to get to the open market a month ahead of the start of free agency.
I can't blame him for wanting to get there, the same way I can't blame the Raiders for trying to control the process before Carr can. Which leaves this saga in the place you find most divorces between players and teams, in that it's all a little awkward and mucked up, and it seems like all parties are ready for it to be over.
---
Here's an under-the-radar thing to give Mike McCarthy credit for—the role he created for Ben McAdoo, and then Brian Schottenheimer, is outstanding. More or less, the idea he had those guys, McAdoo in 2021 and Schottenheimer last year, carrying a job description that had the veteran assistants studying league trends, troubleshooting game plans and sitting in on defensive meetings to give the coaches a set of eyes from the offensive side of the ball to consider.
I've talked to Cowboys DC Dan Quinn a couple of times about the job McAdoo and Schottenheimer have done, and he was over the moon in breaking down the benefits having someone in that role has had for him and that defense.
I think McAdoo would tell you that the experience allowed him to become a better coordinator when he got the shot to call plays again with the Panthers last year, and I think it'll help Schottenheimer, too, as he transitions back into a coordinator role in replacing Moore in Dallas. And my guess would be that McCarthy will want to find another experienced hand (someone such as Greg Roman, maybe?) to fill the spot in 2023.
And, yeah, I know McCarthy's a punching bag right now, and I'm not exempting him from criticism. But I would say there's been plenty of good (replacing his quarterback and left tackle seamlessly early this year and hiring and keeping Quinn would be two other things) he's done in Dallas as he enters a critical year for a lot of people in that organization.
---
We've got your quick-hitters for this week. And, as you'd expect, it's mostly a gaggle of coaching notes. Let's jump into those …
• Timing was of the essence in the Panthers swooping in to steal Ejiro Evero from the Vikings over the weekend. Minnesota had been hot after the ex-Broncos DC for weeks, and Carolina was able to come in and outbid the Vikings for his services, and do it fast enough to where the Rams wouldn't be involved—in the case the Rams lose Morris to the Colts, Evero, who worked for Sean McVay from 2017-21, was going to be their top target.
• Vikings coach Kevin O'Connell will now likely turn to Flores, who actually was just starting working as a Patriots lieutenant when New England drafted O'Connell in 2008. But hiring him will probably have to wait, with Flores's second interview with the Cardinals set for Wednesday.
• Good on Denver for letting Evero pursue other opportunities. It seems as if Seattle assistant Sean Desai, an old Vic Fangio disciple, is well-positioned for the Broncos job, but I've had multiple people wonder aloud to me if Payton might take a swing at luring Mike Zimmer, who he worked with in Dallas, over to Denver from Boulder, where Zimmer is working for Deion Sanders.
• Fangio's Dolphins contract is worth mentioning here since it's a three-year deal worth more than $4.5 million. Quinn, likewise, got paid to stay in Dallas, and then you have Evero picking the Panthers over the Vikings, despite his familiarity with O'Connell. And it does underscore the fact that money is becoming more of a factor in teams hiring assistant coaches.
• The Patriots will have a significant shakeup on their offensive staff. Longtime tight ends coach Nick Caley, who was seen as a possible successor to Josh McDaniels as coordinator a couple of years back, is taking the Rams tight ends job, with Bill O'Brien import Will Lawing set to take his place. And the line coach is now one to watch. Oregon assistant Adrian Klemm (Belichick's first draft pick in New England) was in their crosshairs, and the Patriots have stayed after him.
• While we're there, just as the Cowboys made it worth Quinn's while to stick around, I heard the Lions did the same for Ben Johnson, giving their OC a substantial raise to stay.
• 49ers passing-game coordinator Bobby Slowik is well-positioned to land in Houston as DeMeco Ryans's offensive coordinator. He's considered next in Kyle Shanahan's assembly line of talented young offensive assistants, and could bring Klint Kubiak with him (Ryans remains close with Kubiak's dad, who drafted him as a first-year Texans coach in 2006) as quarterbacks coach. My understanding is Slowik was atop Ryans's staff list. It'd be interesting to see if Shanahan would offer Slowik an OC title to keep him in San Francisco.
• Georgia offensive coordinator Todd Monken remains in play for the Buccaneers (who really like him) and Ravens OC jobs, but with each passing day, the chance that he returns to college football increases. Baltimore might slow play its search a bit, and wait until after the Super Bowl to get the chance to sit down with Eagles quarterbacks coach Brian Johnson (who could also have options in Washington and Carolina) and Chiefs OC Eric Bieniemy (who's on an expiring contract and could have more interest from Washington as well).
• Whether or not it relates to who they're hiring as head coach, the Cardinals are keeping a number of their assistants from interviewing elsewhere, with Joseph and passing-game coordinator Spencer Whipple two of the more notable names they're holding to their contracts.
• Things have been quiet on the Titans OC search, with a lot of people having expected from the start that passing-game coordinator Tim Kelly—who was a coordinator in Houston under O'Brien—will get the job. Matt Nagy, the presumed successor to Bieniemy as Chiefs OC, and maybe even (eventually) Reid as Chiefs head coach, would be one other name I'd just file away there, too. Vrabel really likes him.
One thing you need to know
Somehow, again, impossibly, the combine starts in three weeks. And this week scouts and coaches across the NFL will be knee-deep in draft prep.
So, yes, the Chiefs and Eagles are playing the most important game of the 2022 season in six days.
Everywhere else? The 2023 season has already started.