Every week, NFL games turn on the smallest of pivots.
While we always get a few blowouts, the majority of contests come down to one score, and oftentimes, the team that can win an important matchup or two.
In the NFL Week 3 schedule, there are a host of games that should be tight. According to SI Sportsbook, there are five games with a spread of less than a field goal.
So which matchups could decide the games this weekend? Let's break them all down.
Atlanta Falcons at Detroit Lions
Key matchup: Jared Goff vs. Atlanta's pass defense.
This is strength against strength. The Falcons have done a fantastic job against the pass, limiting opposing quarterbacks to an NFL-worst 4.7 yards per attempt.
However, the Lions present a much bigger aerial threat than Atlanta's first two foes in the Panthers and Packers. Detroit checks in second in YPA (8.2), behind only Tua Tagovailoa and the Dolphins.
---
Tennessee Titans at Cleveland Browns
Key matchup: Tennessee's third-down offense vs. Browns' defense.
Both Cleveland and Tennessee come into this game at 1–1, led largely by ground games and physical, attacking defenses. The difference could well come down to whether the Titans can keep a few critical drives alive.
Through two games, Tennessee ranks tied for 26th, converting third downs at 32%. Browns defensive coordinator Jim Schwartz has his unit playing the best third-down defense in the NFL, permitting conversions at only a 20.7 clip.
---
New Orleans Saints at Green Bay Packers
Key matchup: Packers' run game vs. Saints' front seven.
The Packers have struggled to generate much of a rushing attack through two weeks. They rank 25th with 176 rushing yards and 27th with only nine first downs.
The Saints, meanwhile, have allowed only one touchdown. New Orleans has been especially tough on runners in key situations, allowing just seven rushing first downs, seventh best in the NFL.
---
Denver Broncos at Miami Dolphins
Key matchup: Broncos' pass rush vs. Tua Tagovailoa's quick release.
The Broncos have struggled in recent years, but their defense is usually a strong unit. This season, it's been a problem, especially the pass rush, which checks in at 31st for pressure rate at 12.2%.
Conversely, the Dolphins have allowed Tagovailoa to be pressured on only 9.1% of his drop-backs, by far the league's best figure. The offensive line has been helped by Tagovailoa, who has the sixth-quickest release in the league at 2.6 seconds.
---
Los Angeles Chargers at Minnesota Vikings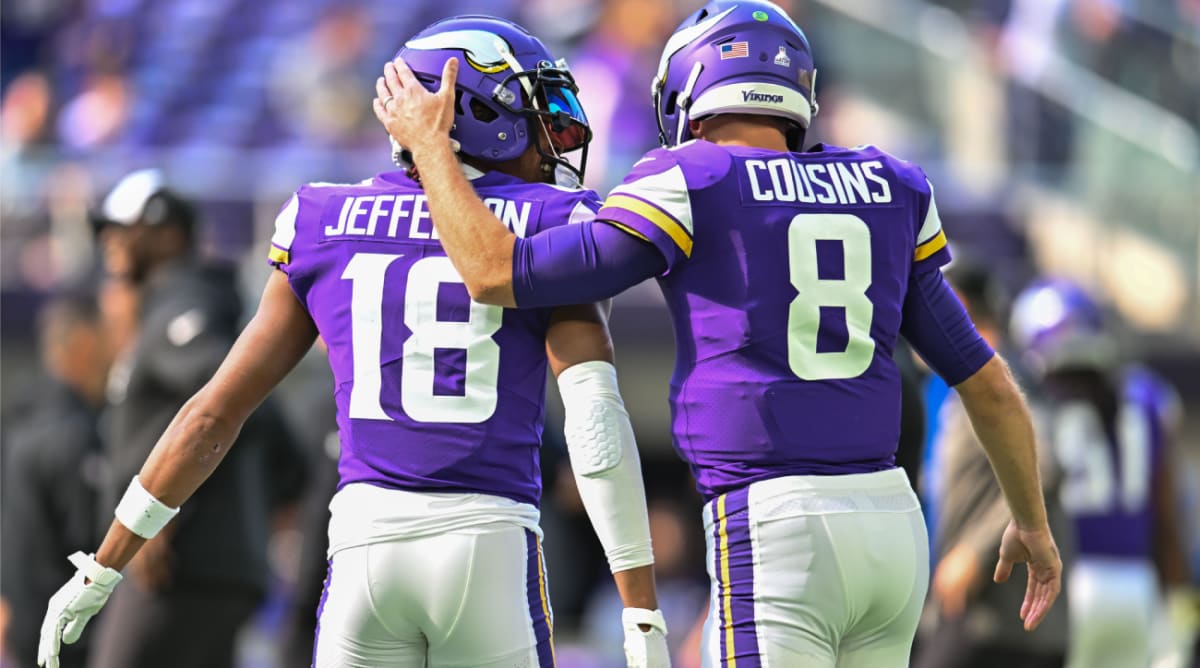 Key matchup: Los Angeles's pass defense vs. Kirk Cousins.
The Chargers have been horrific against the pass, allowing a league-worst 14.8 yards per completion and 333 passing yards per game. Now Los Angeles faces a talented Minnesota receiving corps led by Justin Jefferson and rookie Jordan Addison.
While the Vikings are 0–2, Cousins ranks eighth in yards per completion (11.1) and third in yards per attempt (8.0).
---
New England Patriots at New York Jets
Key matchup: Zach Wilson and Mac Jones vs. the blitz.
Wilson and Jones are going to be under considerable duress in this game. Only the Vikings blitz more percentage-wise than the Patriots (44.3%) and Jets (42.2%).
This could be a game of adjustments at the line, with both quarterbacks needing to identify where the pressure is coming from before making quick throws.
---
Buffalo Bills at Washington Commanders
Key matchup: Buffalo's offensive line vs. Washington's pass rush.
The Bills have allowed seven sacks through two games, ninth worst in the league along with the Steelers and Eagles.
Conversely, Washington leads the NFL with 10 sacks, tied with Dallas. Can the Commanders get home and create a few mistakes from Josh Allen, who leads the league over the past five years in turnovers?
---
Houston Texans at Jacksonville Jaguars
Key matchup: The Texans' offense vs. the Jags' red zone defense.
Houston must win on the margins if it's going to have a chance in this AFC South battle. The first step is improving on third down, where the Texans rank dead last at 16.7%.
Meanwhile, Jacksonville comes in tied for 10th in red zone defense, preventing touchdowns at a 42.9% clip. If the Jaguars force field goals on Houston's best drives, it's going to be a long day for the Texans.
---
Indianapolis Colts at Baltimore Ravens
Key matchup: Ravens' run game vs. Colts' defense.
Indianapolis is 1–1 and has been competitive both weeks. Part of the reason is rookie quarterback Anthony Richardson, but the lion's share of credit belongs to the defense, which ranks first in yards per carry against at 2.6.
For Baltimore to be successful, it needs a balanced attack. The Ravens ran roughshod through the Bengals in Week 2 for 178 yards.
---
Carolina Panthers at Seattle Seahawks
Key matchup: Panthers' third-down offense vs. Seahawks' porous defense.
On Monday night against the Saints, Carolina's offense couldn't move the ball. On third down, Bryce Young & Co. were atrocious, converting only four of 14 opportunities. Overall, the Panthers are operating at a 32.1% clip, 25th in the league.
The good news? Seattle has the worst third-down defense in the NFL as opponents are converting at a 60.7% rate.
---
Chicago Bears at Kansas City Chiefs
Key matchup: Bears' defense vs. Chiefs' receivers after the catch.
Kansas City's offense has struggled to start the season, scoring only 37 points in two games. However, the Chiefs have been lethal after the catch, totaling 294 yards, second to the Vikings (295).
Chicago, which has struggled in myriad ways, has allowed many catch-and-carry yards. The Bears are third worst in the NFL, permitting 289 such yards. If Chicago continues this trend at Arrowhead Stadium, it could get ugly quick.
---
Dallas Cowboys at Arizona Cardinals
Key matchup: Joshua Dobbs vs. Cowboys' pass defense.
Dallas might have the league's best defense, and it's going to be primed to face the Cardinals. Arizona scored 28 points against the Giants last week, but with Dobbs under center, it ranks 28th in the league at 5.9 yards per pass attempt.
As for Dan Quinn's defense, the Cowboys are allowing just 4.9 yards per attempt, tied for second best in the league behind the Falcons. And, finally, Dallas has a league-leading 10 sacks, tied with Washington.
---
Pittsburgh Steelers at Las Vegas Raiders
Key matchup: Steelers' pass protection vs. Raiders' rush.
Not unexpectedly, Las Vegas is having a tough time getting to the quarterback, even with Pro Bowl edge rusher Maxx Crosby. The Raiders are last in pressure rate at 10.5%.
However, the Steelers have been a sieve at times up front. Through two games, quarterback Kenny Pickett has been pressured on 31% of his drop-backs, third most in the league.
---
Philadelphia Eagles at Tampa Bay Buccaneers
Key matchup: Buccaneers' receivers vs. Eagles' secondary.
The Eagles have allowed seven passing touchdowns this season, two more than any other team. One of their biggest issues has been allowing 340 yards after the catch, most in the league.
While Tampa Bay is 14th (YAC), this is an opportunity for quarterback Baker Mayfield to quickly get the ball into the hands of Mike Evans and Chris Godwin to let them do the work.
---
Los Angeles Rams at Cincinnati Bengals
Key matchup: Matthew Stafford vs. the Bengals' front four.
The Rams have surprised so far this season, sitting at 1–1 but performing like a playoff team. Much of the reason is Stafford, who has been pressured on only 13.3% of his drop-backs, third best in the NFL.
Cincinnati, meanwhile, has struggled to generate anything against opposing quarterbacks during its 0–2 start. The Bengals rank 30th in pressure rate (13.5%) while amassing only three sacks.